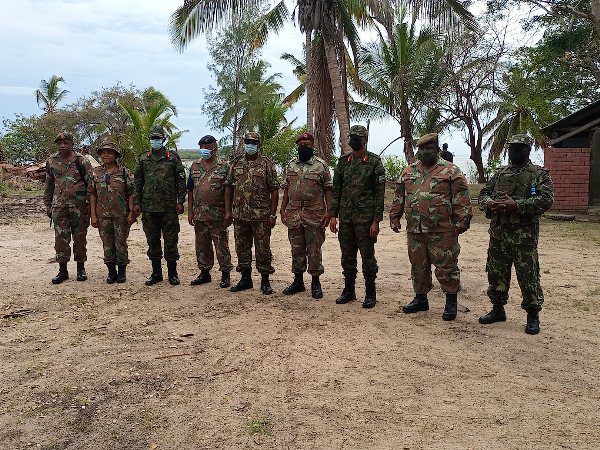 A delegation headed by Gen Rudzani Maphwanya the Chief of South African National Defence Forces (CDF) accompanied by Lt Gen Bertolino Jeremias Capetine the Mozambican Deputy Chief of General Staff (D/CGS), Maj Gen Xolani Mankayi the SADC Mission in Mozambique (SAMIM) Force Commander and other senior officers from SANDF, SAMIM and the Mozambique Armed Defense Forces (FADM) visited Rwanda Security Forces (RSF) headquarters at Mocimboa da Praia in Cabo Delgado Province in Mozambique.0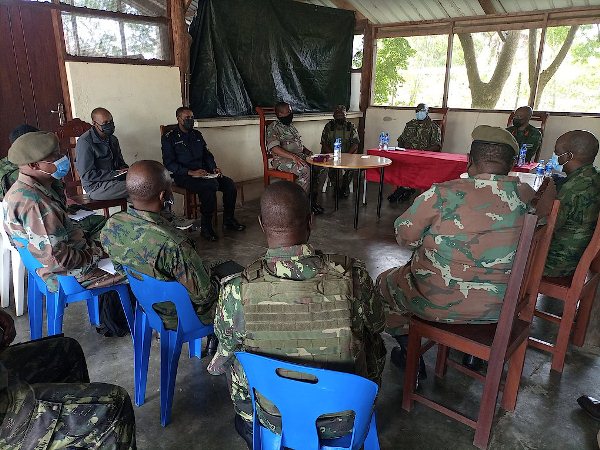 The delegation was received by the Joint Task Force Commander (JTFC) Maj Gen Innocent Kabandana accompanied by RSF senior officers. The JTF Comd briefed them on general security situation and RSF operations against the terrorists in Cabo Delgado Province. Major General Kabandana appreciated the existing collaboration and cooperation between RSF, SAMIM and FADM in the operations that have enabled the achievement of some good results. He reiterated the need to plan and conduct joint offensive operations to dismantle the main terrorists' bases in Chai Macomia and others in Pundanhiar and Nicha de Ruvuma.
In his remarks, the Chief of South African Defense Force General Rudzani Maphwanya said that the purpose of his tour in Mozambique was to visit SAMIM troops deployed in the Cabo Delgado Province and take the opportunity to visit RSF leadership who are also deployed for the same mission.
Gen Maphwanya commended cooperation between the forces in the operations namely; RSF, FADM and SAMIM and urged commanders on ground to sustain existing good collaboration in a bid to defeat the terrorist remnants in Cabo Delgado.
This would ensure the continuous return of the population to their homes and support them to revive social economic activities thus paving way to long lasting peace.
The CDF SANDF who is also the Chairman of the SADC Troika Chiefs of Defence reiterated that recent SADC Chiefs of Defence meeting recommended additional resources to SAMIM which will enhance the forces' operational capacity. He also noted the need for joint planning and expeditious execution of joint operations in order to defeat the terrorists reported in various areas. (End)