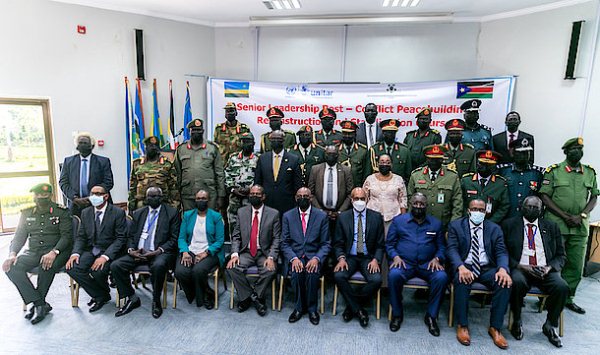 Senior Government and security officials including Ministers, Senior military officials, Members of Parliament and representatives of political parties from the Republic of South Sudan have completed a Senior Leadership Post-Conflict Peacebuilding, Reconstruction and Stabilisation Course at Rwanda Peace Academy in Musanze District.
The Minister of Justice and Attorney General, Dr. Emmanuel Ugirashebuja who presided over the official closing ceremony said that he is confident that the positive ideas that South Sudan Officials have generated from the seminar will contribute to full implementation of the Revitalised Agreement on the Resolution of the Conflict in South Sudan.
"Rwanda's experience has taught Rwandans that peace is costly and that transformative leadership, political will and commitment, accountability, ownership, inclusivity, justice, building trust and confidence, as well as drawing positive lessons from the past, are important factors in nation and state building. Equally important, is the courage and vision to make difficult strategic choices and above all, audacity and commitment to implement what has been agreed upon," said Minister Ugirashebuja.
The South Sudan Minister of Cabinet Affairs Martin Elia Lomuro who was heading the delegation said that they learnt a lot from Rwanda's experience.
"We were able to take Rwanda's experience specifically on conflict analysis; to analyse our own conflict and to put together some solutions based on the root causes of the conflict. This has been a very useful seminar and I believe that all my colleagues will be ambassadors of peace," said Minister Lomuro.(End).