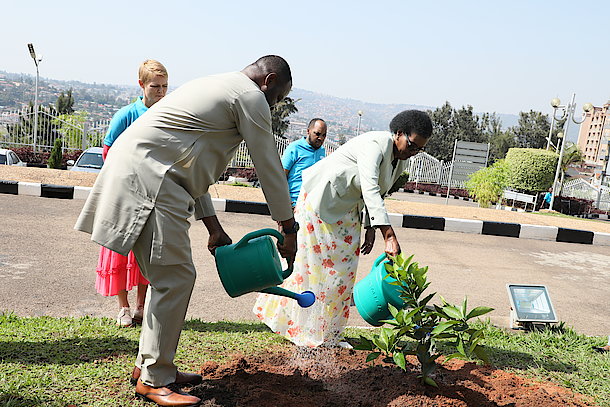 The Speaker of the Chamber of Deputies Mukabalisa Donatille joined the youth to celebrate the International Day of Peace, themed "The Rwandan Model in Upholding Unity and Sustainable Peace-The Role of Youth in Ending Hate Speech''.
Engaging the youth, Speaker Mukabalisa said, "always keep in mind that the country is everything, the war is over, now we are in the contest for sustainable development, and you have a big role to play in, this is your main responsibility."
"You are lucky to have those whom you take as an example, especially your leaders who took the lead in liberating our country at the expense of their lives." She added.
The Minister of National Unity and Civil Engagement Jean Damascene Bizimana called the youth not to be afraid of those who create hatred and division and engage them to showcase the achievements that Rwanda is making in unity and reconciliation and the improvements in the lives of Rwandans.
Young Rwandans, who gathered to celebrate the International Day of Peace, vowed to tirelessly contribute to the fight against hurtful, hateful and discriminatory language and take the lead in teaching the values of peace. (End)