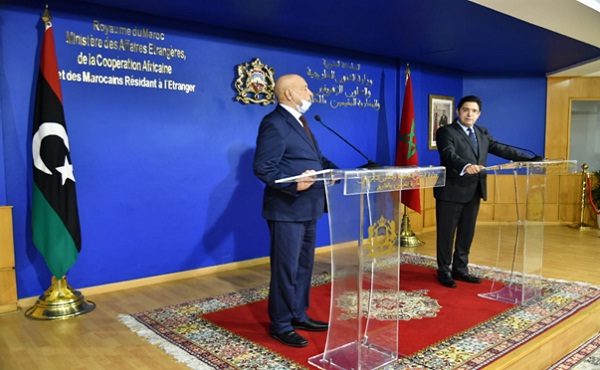 The Speaker of the Libyan House of Representatives, Aguila Salah, welcomed, on Saturday October 24, 2020, in Rabat, "the great efforts" made by the Kingdom of Morocco, within the framework of the Libyan Dialogue, to support a political solution in Libya, and which led to the first successes with the conclusion of the ceasefire agreement between the Libyan parties in Geneva.
Speaking at a joint press briefing with the Moroccan Minister of Foreign Affairs, African Cooperation and Moroccan Expatriates, Mr. Nasser Bourita, following a bilateral meeting, Mr. Salah said that Morocco is committed since the process of Skhirat and has provided to the Libyan brothers all the possible opportunities to achieve solutions.
The Speaker of the Libyan Lower House underlined, in this regard, that the interest shown by the Kingdom and its support for the quest of a political solution, within the framework of the Libyan Dialogue in Bouznika, also led to a consensus accepted by all Libyans on the sovereignty posts, as defined by Article 15 of the Skhirat Agreement, as well as their distribution among the three historical provinces in a way that will satisfy all Libyans.
Mr. Salah expressed the desire of the Libyans to hold other meetings, with the support of Morocco, in order to move forward towards a political solution and to succeed in its various stages, noting that the Libyans were satisfied with the results of the political dialogue, especially as air traffic has experienced a dynamic, from Tripoli to eastern Libya, and the roads will be opened in the coming days, in addition to the revaluation of the Libyan dinar thanks to the positive developments recorded recently.
Please follow and like us: