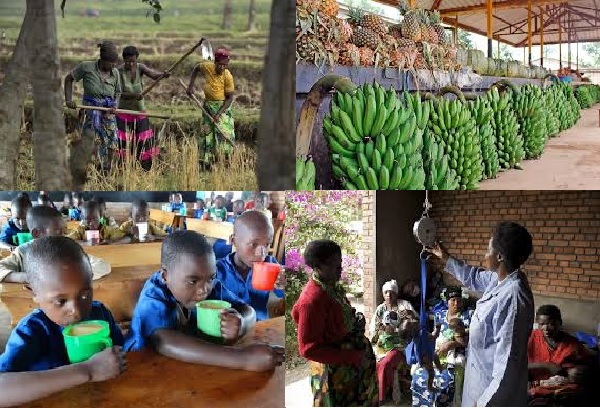 By Paul Mbonyi;
Kigali: In this article, under the implementation of Voice for Change Partnership(V4CP) project, funded by the Netherlands Foreign Affairs through SNV-RWANDA and International Food Policy Research Institute (IFPRI), ADECOR highlights the potential impacts of COVID-19 on food and nutrition systems in Rwanda andproposes some strategies to protect vulnerable groups.
Nutrition has been a development priority for a decade. Rwanda has strengthened nutrition policies and programs with some measurable success. To mitigate adverse nutrition impacts, Government and partners outlined multisectoral nutrition actions that can protect the most vulnerable, including mothers and children. The COVID-19 pandemic has all the makings of a perfect storm for national malnutrition. The crisis started and continues to damage the nutritional status especially for vulnerable groups through multiple mechanisms.
What is the impact of Covid-19 on nutrition?
Below we present supply-side and demand-side risks to the food system that require deeper consideration as the crisis unfolds.
Reductions in dietary quality: Income loss effects are likely to be dramatic for poor households because of widespread unemployment resulting from COVID-19 mitigation measures. Vulnerable households quickly give up nutrient-rich foods in order to preserve their caloric intake and respond by purchasing the cheapest calories they can find to feed their families. The COVID-19 economic crisis could also affect nutrition through disruptions to supply chains for nutrient-rich foods. Most nutrient-rich foods are highly perishable, resulting in fragile supply chains. A breakdown in any part of the supply chain – from farms to traders, transporters, and processors to retailers – can break the whole chain. In addition to the severe deterioration in household diets, there are major additional nutritional risks for vulnerable groups such as mothers, young children elder people, patients with chronic diseases…. Breastfeeding promotion and nutrition counseling usually provided by the health facilitiesis severely limited due to restrictions on mobility, social distancing requirements, and overburdened healthcare systems.
COVID-19 threatens the health of vulnerable groups/ maternal and child health, directly and indirectly: Pregnant women and mothers with young children are obviously vulnerable to COVID-19, and especially so if they have other underlying health conditions. In principle, lockdown protocols in Rwanda do not prohibit health-related travel, but some healthcare clients are less willing to travel for non-emergency check-ups or preventive care (such as immunization, nutrition counselling, micronutrient supplement distribution). Some of the most direct risks include breakdowns in supply and/or distribution of antenatal iron folic acid or multiple micronutrients; child vitamin A supplementation; distribution of oral rehydration salts and zinc for diarrhea and therapeutic food for home treatment of acute malnutrition. Periodic or chronic lack of access to safe water, sanitation, and hygiene (WASH), declining dietary quality, and heightened seasonal risk of infectious disease means that many children will be in danger of severe, life-threatening disease and malnutrition.
How can we protect vulnerable groups?
Just as in normal times, malnutrition remains a multidimensional problem during times of crisis and therefore requires multisectoral solutions. It is critical to strengthen and broaden multisectoral nutrition coalitions to ensure that actors in different sectors work as effectively as possible to prevent nutritional crisis. It is now more critical than ever that multisectoral nutrition groups advocate and support key actions to protect nutritionally vulnerable groups with many of these actions that also contributing to poverty reduction:
Keep and enhance agri-food systems functioning: Let farmers farm, traders trade, input dealers deal, and sellers sell, even if they are informal.
Facilitate food system innovations: Government, development partners, and microfinance institutions should search for ways to stimulate innovative and safe food delivery systems.
Support enhanced homestead food production to increase access to nutrient-rich vegetables, fruits, and eggs and improve diet quality:These programs are consistent with social distancing, can use surplus household labor, including women, and will increase consumption of nutrient-rich foods.
Find innovative ways to stimulate demand for nutrient-rich foods: National and local leaders, civil society and media must urge their populations to keep consuming healthy diets. Mobile phone messaging could be used to stimulate demand for protective nutrient-rich foods and to encourage appropriate infant and young child feeding practices, including optimal breastfeeding and diet diversity practices.
Use social safety net programs to improve dietary quality, not just quantity:Food transfers are often focused on staples, and where available, should consider biofortified (micronutrient-rich) crops and fortified products. Cash transfers or vouchers schemes linked to innovative food delivery systems should also be considered to keep the economy going and stimulate demand for nutrient-rich foods such as fruits and vegetables, dairy, and other.
Prevent the collapse of basic maternal and child health services:It must find ways to maintain basic preventive and curative healthcare services, especially for mothers and young children, whether through remote consultations and nutrition counseling (using mobile messaging or radio) or COVID-19–safe home visits and delivery of essential medications and supplements.
Invest in WASH, urgently: WASH programs are a win-win for preventing contagion of COVID-19 and other infectious diseases that affect especially maternal and child health and nutrition.Public announcements and mobile messaging can raise awareness and nudge individuals into more hygienic routines.
Ramp up support to community-based management of acute malnutrition:With the expected rises in acute malnutrition, it is important to boost safe community-level screening and referral of children with acute malnutrition, maintain appropriate stocks of life-saving supplements, and ensure appropriate staffing and availability of protective equipment. Regular monitoring and surveillance are also needed to assess the emergence of acute malnutrition among newly vulnerable populations.
Protect vulnerable groups especially women and children: Economic stress and social distancing can increase the risk of domestic violence and psychosocial stress. Social protection and other relief programs need to prioritize women and children and explore novel ways to support individuals and communities in the context of prolonged social distancing.
Set up or scale up food and nutrition surveillance systems: Emphasize the critical need for high-frequency surveillance of vulnerable populations and close coordination across sectors, including health, agriculture, education, water and sanitation, social protection, and commerce and trade.
As the COVID-19 pandemic rapidly unfolds, the national food system at risk. Now is the time to increase awareness and knowledge of the potential implications of the pandemic on global food security and access to nutritious foods. It is imperative that we take proactive steps to ensure this health crisis does not morph into a food crisis.
*By MBONYI Paul, Program Manager at Rwanda Consumers Rights Protection Organization (ADECOR)