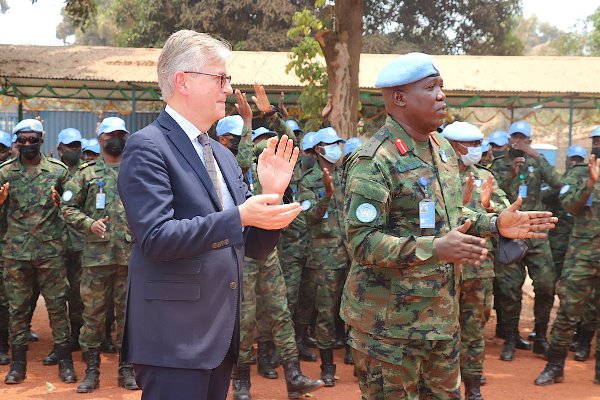 The United Nations Under-Secretary General for peace operations, Ambassador Jean Pierre Lacroix, today visited Rwanda peacekeepers (Rwabatt8) serving under the United Nations Multidimensional Integrated Stabilization Mission in Central African Republic (MINUSCA), at their headquarters in Socatel M'poko Base camp in Bangui city.
He was received by the Contingent Commander Col Augustin MIGABO who briefed him on Rwabatt8 operations and the challenges faced since they deployed to CAR on 17 April 2021.
Ambassador Jean Pierre La Croix congratulated Rwandan peacekeepers for their role in restoring peace and security in CAR despite the challenges of COVID-19 pandemic.
"We are all impressed and very grateful for the outstanding performance of Rwabatt8, and entire Rwandan peace keepers who have a good record of conduct and discipline in peacekeeping operations."
He further encouraged Rwabatt8 to remain resolute in the enforcement of the MINUSCA mandate.
After interacting with troops, Ambassador Jean Pierre Lacroix also planted the tree as a symbol of peace and support to environment conservation initiatives.
Ambassador Jean Pierre Lacroix was accompanied by the Former MINUSCA Special Representative of the UN Secretary General Mr Mankeur Ndiaye, Deputy Special Representative of the UN Secretary General, Mrs Lizbeth Cullitty, MINUSCA Deputy Force Commander Maj Gen Paulo Emmanuel Maiia PEREIRA among others.(End)