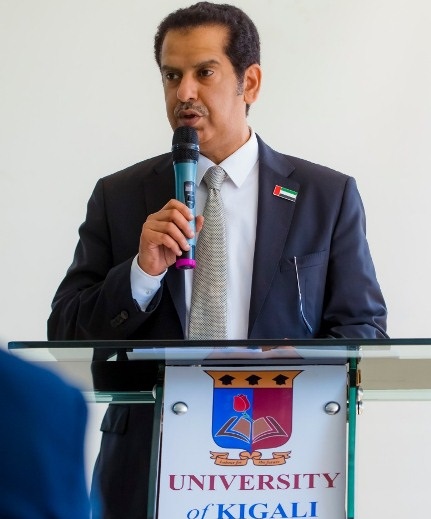 Ambassador Hazza Alqahtani delivering his presentation.
Ambassador Hazza Alqahtani of the United Arab Emirates (UAE) in Kigali visited today the University of Kigali attended by more than three thousand students, and he moderated a discussion with the students focusing on UAE Youth Empowerment Initiatives. Read his presentation below: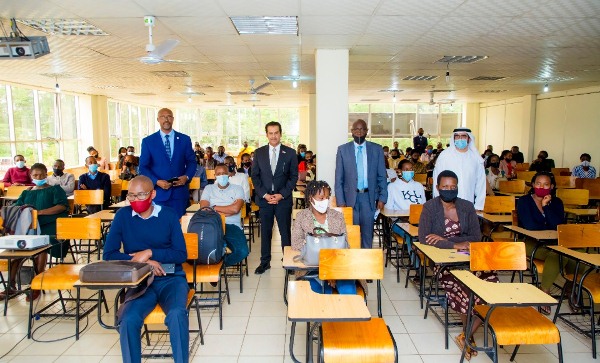 Ambassador Hazza Alqahtani with students.
Introduction:
• I want to sincerely thank the Co-founder & Chairman of the Board of this university Mr. Afrika, for giving me this opportunity to speak to you about UAE youth empowerment initiatives and how the UAE Government recognizes that education is key to the empowerment of youth.
• Students from the faculties of Business Management & ICT, thank you for your time and I hope we have an interesting discussion.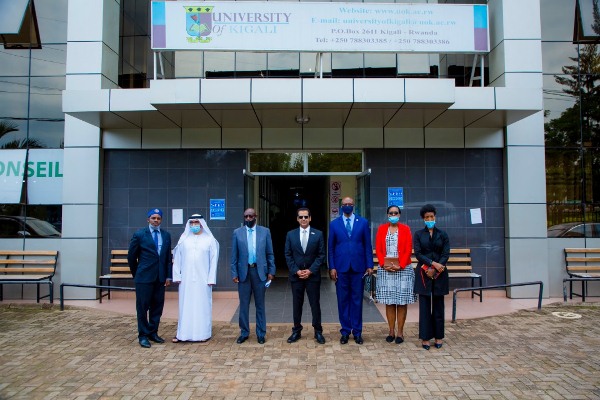 With leaders of University of Kigali
Youth Empowerment in the UAE:
• The UAE Government fully believes that the empowerment of youth is vital in order to enable young people to shoulder responsibilities, innovate and contribute to the welfare of the community.
• Needless to say, the government has a vision & strategy for its young population, and for that very reason it embarked to diversify its economy by creating new jobs for UAE youth in private & government sectors.
• To name but a few, the appointment of the first Minister of State for Youth Affairs in the UAE H.E Shamma Al Mazrui, was in 2016 and she was just 22 years old, the world's youngest minister. We have 10 out of 34 young Emiratis as ministers in the cabinet, let alone the many Undersecretaries, CEOs, and so on.
• The growing number of young undergraduates can also be absorbed in the public & private sectors. There are tens of thousands of multinational companies, including Apple & Google, that attract the young graduates, especially in the IT & science domains.
• In February this year, the Cabinet approved 33 young Emiratis as members of the boards of directors for key federal entities.
The young board members will undergo intense training as they enjoy similar privileges and benefits as other established board members. The government subsidizes private sector companies if they employ UAE youth by making sure that they receive same benefits as their peers who work in the public sector.
• Another example; 75% of employees in the UAE Ministry of Finance are youth. They play an important role in the financial growth of the UAE and in achieving sustainable economic development of the country.
• The UAE government also established several funds to support small & medium enterprises owned & run by young Emirati entrepreneurs.
• In 2016, the Vice President & Prime Minister of the UAE, and Ruler of Dubai announced the establishment of the Emirates Youth Councils, which aim to represent the ideas and aspirations of Emirati youth and provide innovative solutions in government.
• One of them is the Global Youth Council, which aims to bring together Emirati students from across the world to promote cross-cultural understanding, boost leadership skills, & prepare
students to make a positive impact in their universities and communities.
• These Youth Councils ensure an ongoing communication between leadership and youth and provide a platform for the youth to voice their innovative ideas and opinions.
• The UAE government also supports youth businesses through dedicated funds and awards that aim to support young entrepreneurs in different phases (small & medium enterprise
sector).
Role of Education in Youth Empowerment:
• Let me first share this important quote from the Vice President & Prime Minister of the UAE, and Ruler of Dubai HH Sheikh Mohammed Bin Rashid Al Maktoum. He said "The future
belongs to those who can imagine it, design it and execute it. It is not something you await but rather create". End of quote.
I want to tell you all, that where you are now….here at university, is where it all begins.
• Which is why, the UAE offers excellent education opportunities to Emirati youth, in addition to scholarships to study in the UAE and abroad. In this regard, higher education in state institutions is provided free for every UAE national.
• The UAE has established an excellent and diversified system of higher education with 76 public and private institutions of higher education, both local & international campuses, such as
the Sorbonne Abu Dhabi University, New York University and American University of Sharjah.
• The Ministry of Education offers youth scholarships in a number of different fields such as Medicine & Health Sciences, Engineering Sciences, Environmental Science &Energy, etc. This
is something the UAE government has also done through Rwanda's Ministry of Education, to offer scholarships to best high school performers to pursue their bachelor's degree programs at top universities in the UAE. I will get into the details a little later on.
• The UAE Government launched several career development & support programs to empower the youth. The different career centers offer free career counselling and workshops that provide Emirati youth with tools to become better prepared for the future of work. These career centers also now found in every university in the UAE.
• Furthermore, in 2017, the UAE government launched the Youth Hub, a community space for the UAE's youth where they can meet & connect with other young minds.
• The Youth Hub caters to young people between the ages of 15 & 35 irrespective of whether they are studying or working.
• It provides workspaces for young entrepreneurs, researchers, programmers and media professionals.
• The UAE Government also introduced the Youth Circles initiative to inspire youth-centric dialogue across a variety of areas for sustainable engagement with youth to shape innovative solutions for global challenges. In this program, youth representing different genders, fields & age groups participate in a dialogue with senior government leaders in a circle format, to express & share their opinion to shape a solution or a policy. Last year, the Embassy conducted a successful youth circle for 100 young women in the hospitality & tourism sector with Rwanda's Minister of Youth & Culture Hon. Rosemary Mbabazi. This was after they attended a training on empowering them in hospitality excellence, with trainers from the Emirates Academy of Hospitality Management.
UAE Youth Empowerment Support Programs in Rwanda, through formal education:
• Since 2002, the UAE through different foundations has supported Rwanda's education by funding secondary schools, such as the Hamdan Bin Rashid Al Maktoum Girls Secondary
School for Sciences in Muhanga, the Hamdan Bin Rashid Kimisange Secondary School & the Islamic Secondary School for Sciences in Nyamirambo and students from these schools have
been performing well in National Examinations.
• Since 2018, 20 male & female students from Rwanda received UAE Government scholarships at the UAE University in the disciplines of: Architecture, Mechanical Engineering, Electrical
Engineering, Biology, Biochemistry, and Computer Science.
• In 2019, 10 Rwandan students were given full scholarships to pursue bachelor's degree programs at Sorbonne Abu Dhabi University. They will begin their studies in 2021 (a delay caused by the COVID-19 pandemic).
• Going beyond youth empowerment through education, in June 2019 the UAE Government signed with the Government of Rwanda, a Memorandum of Understanding to facilitate labor
mobility between Rwanda & the United Arab Emirates, allowing skilled Rwandans to access jobs opportunities in the United Arab Emirates through exchange of workforce as well as
transfer of skills and knowledge.
As I conclude:
I want to tell you that I know most of the youth empowerment initiatives I have talked about have also been implemented by the Government of Rwanda, and it is up to you the youth take advantage of them. I encourage you and the leaders of this university to look into implementing them here at this university, because they allow the youth & leaders to work together and inspire each other to reach greater heights. Once again thank you so much for your time and I look forward to hearing from all of you talented students. Thank you. (End)