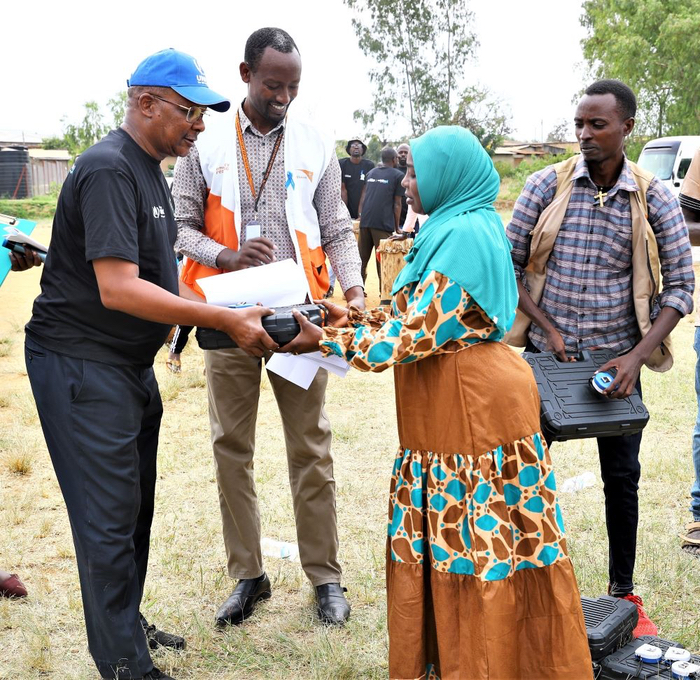 UNHCR Representative in Rwanda, Ahmed Baba Fall, giving a donation to an immigrant women in Gashora Centre
Gashora (Rwanda): Yesteray, UNHCR, the UN Refugee Agency, in collaboration with the Ministry in charge of Emergency Management (MINEMA) joined thousands of refugees hosted in Rwanda to mark the 2022 World Refugee Day under the theme "Everyone has the right to seek safety."
The main event took place at the Emergency Transit Mechanism (ETM) centre in Gashora in Bugesera District. Similar celebrations were also held in all camps namely Mahama, Mugombwa, Kigeme, Kiziba and Nyabiheke refugee camps and urban areas hosting refugees across the country.
At the ETM centre, the event was marked by different activities including the inauguration of a new three-storey accommodation facility, known as Ikaze Residence, that will increase the centre's capacity to 700 refugee evacuees from Libya at any time, in line with the tripartite agreement between the government of Rwanda, the African Union and UNHCR.
"This World Refugee Day, we honour the courage, strength, and contributions of the millions of people around the world who have been forced to flee their homes due to violence, war, or persecution," said UNHCR Representative's in Rwanda, Ahmed Baba Fall. "Refugees, as those Rwanda has generously opened its doors in this ETM centre, often have to make difficult yet courageous decisions to leave their homes, families, friends and communities, experiencing great challenges to reach safety," said Fall.
"UNHCR remains grateful to the government of Rwanda and the host community for welcoming and hosting the forcibly displaced including refugees. We continue to call for increased and sustained donor support so that humanitarian actors including UNHCR, are able to deliver critical aid and solutions to people forced to flee," said Fall.
Since 2019, over 1,000 asylum seekers evacuated from Libya have been hosted in the ETM centre, awaiting long-term solutions including resettlement in third countries. As of June 2022, 629 refugees had been resettled in Canada, Sweden, Norway, Finland, Belgium and France.
The Minister in charge of Emergency Management, Marie Solange Kayisire, thanked the UNHCR and supporters who contributed to building the new accommodation facility at the ETM centre.
The minister also called upon refugees hosted in Rwanda to work towards their own self-reliance and explore durable solutions for them.
Currently, Rwanda hosts over 127,000 refugees mainly from the Democratic Republic of Congo (DRC) and Burundi. (End)