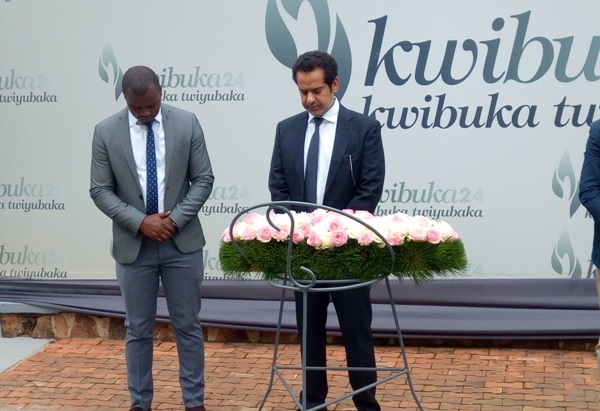 Kigali: The Ambassador of United Arab Emirates (UAE), Hazza Alqahtani (H.A),  today visited Genocide memorial site of Kigali in Gisozi where more than 250,000 Tutsi victims are laid to rest, and he has applauded the leadership of President Kagame as a success in reconciliation process. Read the interview by RNA's André Gakwaya.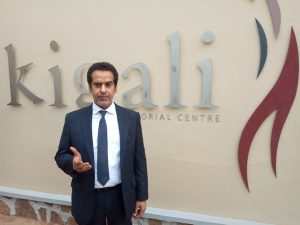 RNA: You have just visited this Genocide memorial site in Gisozi, tell us about your impression.
H.A – Visiting this Genocide memorial is not a normal visit. It is a visit to learn what happened exactly to the people during the Genocide period, and to have knowledge and to see the difference between whoever committed this horrible crimes against the Tutsi, and to see the huge transformation led by His Excellency Paul Kagame, how he transformed the country, how he promoted tolerance, how he used tolerance to spread peace and forgiveness in the Rwandan society, how he brought all Rwandans together. And this is big lesson for nations, for all people to learn from the Rwandan people, and to learn from His Excellency the President and his management after the Genocide. He did not promote hate or revenge, and this is opposite. We see people living together like any other nations. We see the seeds of tolerance and forgiveness that he planted after the Genocide and Reconciliation process.
I salute and admire His Excellency the president for everything he has done. And the memorial site stands to remind people of the difference between peace and more, between love and hate, between tolerance, forgiveness and revenge.
And I thank His Excellency the President and Government of Rwanda and the people of Rwanda. And I am sure it is lesson for all the world and thank you so much for preserving this Genocide memorial site.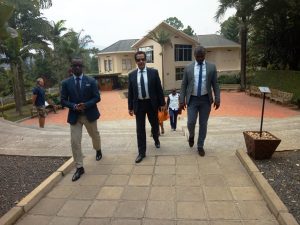 RNA – You said you want to bring some young generations to learn from Rwanda and spread seeds of peace. When will you initiate that?
H.A – No. UAE is very safe country. We have not seen any kind of violence. UAE is now hosting more than 200 nationalities, from every religion, living together, side by side. For UAE leadership 2019 is the Year of Tolerance. The idea is not because we have a problem. The idea is that we want to export our model of tolerance. We have 200 nationalities from all the regions and countries of the World. We have no tension, no violence, no hate speech, nothing. We want this year really to help other nations.
My idea is I want to be in touch with relevant entities in the Rwandan Government and relevant entities in the UAE Government to organize some kind for education visits. We will have exchange of experiences between groups of students from students of Universities, and High schools. The students back home with white, black, yellow, brown, will be from all religions. We want to educate the UAE at a cosmopolite society living in UAE. We want to learn from the experience that Rwandan and the President Kagame have done after Genocide.