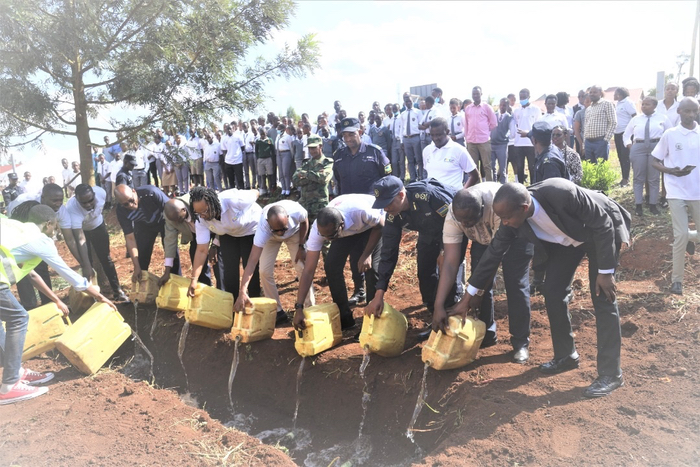 The Ministry of Health through Rwanda Biomedical  Centre in collaboration with the Rwanda National Police, local authorities and other stakeholders organized a one week campaign to raise awareness on the drug abuse issues and calling addicted people to seek for health care services. 
The campaign kicked off on June 7, 2022 at New Life Christian Academy School in Kayonza district, under the theme, "Share facts on drugs, Save lives"
Dr. Tharcisse MPUNGA, the Minister of State in the Ministry of Health in charge of Primary Healthcare urged the youth gathered at the campaign site to play their role to build a country free of drug and substance abuse.
"Dear young people gathered here, it is you who will build this country, it is you who will develop it and you will live in it, you will have children, you will not give to them what you do not have, you will not settle in a country that you did not strive for. Drugs are one of the worst things that destroy not only physical and mental human well-being but also the whole life." Said Minister Mpunga.
Minister of State, Dr. Tharcisse Mpunga urged the general population to distance themselves against drug abuse and reminded the educators to play their role to protect young people against drug and substance abuse.
"it is our role to protect the entire population from the use of drugs for the betterment of their lives but especially the youth as they are not often with their parents, there are many things that can distract them, educators have a very important role to play in helping these children learn better and prevent anything that could endanger their lives." Added Dr. Mpunga.
Minister of State in the Ministry of Health called those addicted or harmed by drugs, alcohol and substance to seek for care as well as community support because there is a drug rehabilitation centre in Bugesera and Huye Isange Rehabilitation centre, a mental health specialized clinic that treats people with serious side effects of drug and substance abuse that require care and treatment so that they can return to normal life.
The Head of Rwanda Investigation Bureau in Kayonza District while showing that drugs to be destroyed said that among drugs that are dominant in this District include cannabis and a crude gin commonly known as Kanyanga. He added that production, sell and consumption of this illicit gin and drug is also punishable by law.
This weekly anti-drug abuse campaign will run from 7 to 16 June 2022 and will target all categories of the population ranging from the youth students non students, employed to unoccupied, adults, parents, and others. The event was marked by destruction of drugs, testimonies of the former users of drugs, and drama. (End)