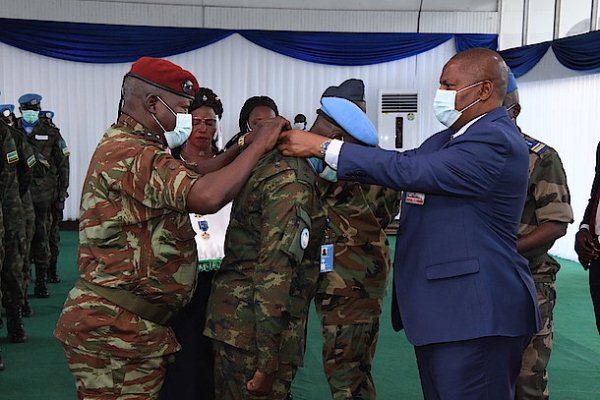 The President of the Central African Republic Prof Faustin Archange Touadera yesterday, awarded the Rwandan peace keepers (Rwanbatt7) serving under United Nations Multidimensional Integrated Stabilization Mission in the Central African Republic MINUSCA with the Central African Recognition Medal for their contribution to the peace effort in CAR.
The awarding Ceremony was attended by cabinet ministers among other dignitaries. The event was held at the office of the President "Palais de la Renaissance" in Bangui Capital city.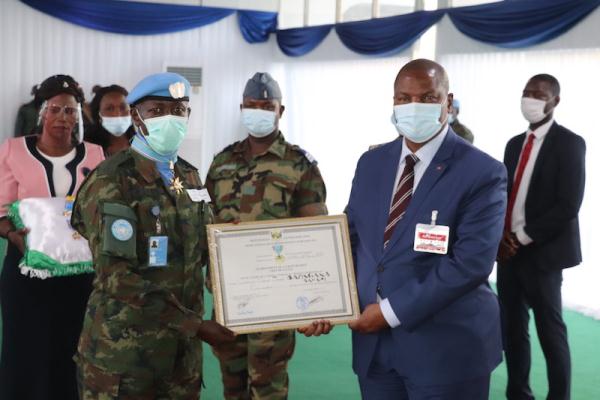 Rwanbatt7 Commanding Officer was decorated with "Grade de Commandeur"; senior Officers received "Grade d'Officiers", junior Officers were decorated with "Grade de Chevalier" while other ranks were decorated with "Grade de Etoile du Mérite Militaire"
The Head of State lauded the government of Rwanda and MINUSCA for their efforts in bringing peace and stability in CAR since the mission started. "I would particularly like to pay tribute to the courage of Rwandan peacekeepers and MINUSCA in general who have fulfilled their duty to the point of supreme sacrifice for the cause of peace. The population of CAR recognises the efforts made to restore peace and security in our country."
On behalf of Rwandan Contingent, the Unit Commander, Lt Col JB SAFARI thanked the President of CAR Prof Faustin Archange TOUADERA for the recognition of Rwanbatt7 contribution and also thanked the MINUSCA leadership for their full support in fulfilling their mission.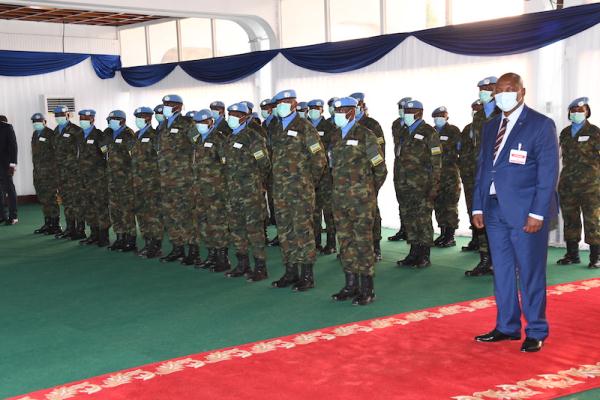 The Rwandan peacekeepers, who were decorated were deployed to CAR on 6 March 2020. They conducted various operations including protecting the Head of State, securing strategic sites in the capital city, Bangui and contributed to ensuring security during recent elections held in CAR. (End)
Please follow and like us: