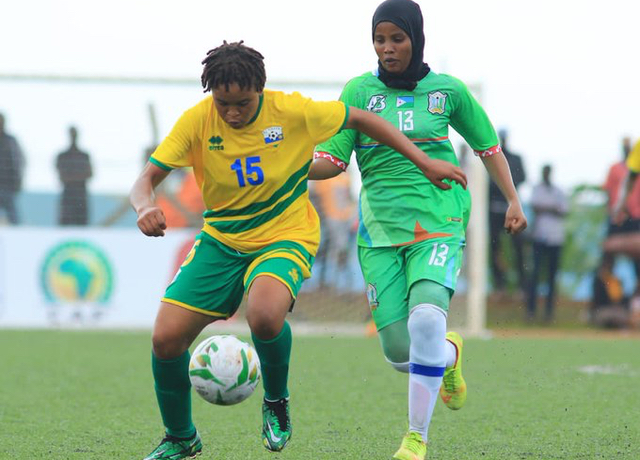 Despite failing to progress to the semifinals of the CECAFA Senior Women's Championship, Rwanda had something to smile about, securing a 2-0 win in the game played at FUFA Technical Centre, Njeru.
Anne Marie Ibangarye and Lydia Uzayisenza scored a goal apiece in the opening stanza to earn three points ending the tournament expedition in third in Group A.
The first goal for Rwanda came in the 11th minute with Uzayisenza sending a ferocious strike just outside the area.
Ten minutes later, Ibangarye got the second goal with a simple finish from close range.
Djibouti too had attempts at goal but lacked the effectiveness to at least get their first at the tournament.
Rwanda failed to earn a semi-final slot when they lost a second game to Burundi in a closely contested Group A game last Friday.
Both teams came out blazing and treated the fans to a good display but it was Burundi that got the edge to eventually win 2-1.
Sandra Niyonkuru bagged a brace for Burundi while Rwanda got their consolation goal through Zawadi Usanase.
It was frustrating for head coach Sosthenes Habimana, when Rwanda's Joseyne Mukantaganira brought down substitute Aneilla Uwimana in the box after 79 minutes and the referee pointed straight for a penalty.
Habimana, said they were punished for the two mistakes committed by his defenders. "We are here to learn and get experience because we have not played in this tournament for some time," he added.
It was the second defeat for Habimana's side, having lost 2-0 to host Uganda in the opening game.
The result means Uganda tops Group A on nine points, Burundi finished in second place on 6 points while Rwanda and Djibouti ended with 3 and 0 points respectively.
Group B final games will be played on Monday to determine the teams that will face Uganda and Burundi.
Tanzania and Ethiopia are level on 4 points while South Sudan has three in this group.
South Sudan will have to win their game against Ethiopia to reach the semi-finals, while Tanzania on the other hand seems to have an easy contest on paper when they face Zanzibar who are yet to pick a point.