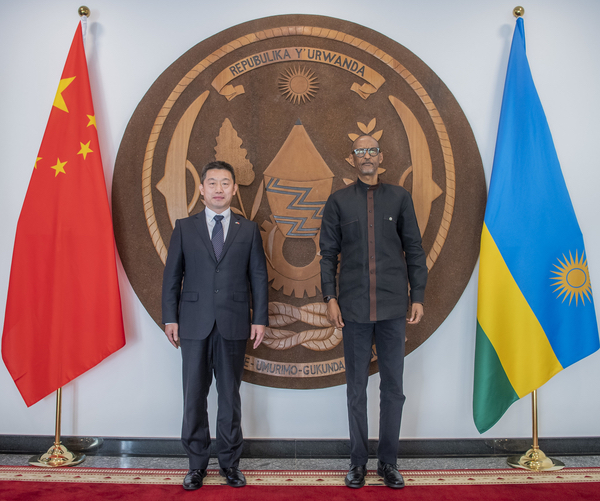 On August 9th, Mr. Wang Xuekun, Ambassador-designate of China to Rwanda, presented his letter of credence to Paul Kagame, President of the Republic of Rwanda.
Ambassador Wang Xuekun first conveyed the cordial greetings and best wishes of President Xi Jinping to President Kagame. He said that since the establishment of diplomatic relations between China and Rwanda, the friendly relations and cooperation have enjoyed sound and steady growth, and the exchanges and cooperation in wide-ranging areas have produced remarkable outcomes. The Communist Party of China and the Rwandan Patriotic Front has also maintained good relations.
In recent years, with the personal commitment and support of President Xi Jinping and President Paul Kagame, the friendly relations and cooperation between the two countries have entered at a new stage. China stands ready to work with Rwanda to strengthen political mutual trust, deepen mutually beneficial cooperation in all areas and work for the continued development of the friendly relations and cooperation. He would exert his best efforts to work for this goal during the tenure.
President Kagame welcomed the ambassador to his new post. He recalled the scenarios of welcoming President Xi Jinping to Rwanda and his visits to China, and asked the envoy to convey his cordial greetings and best wishes to President Xi. President Kagame said that the two countries have cordial and good relationship with excellent cooperation. Rwanda appreciates the gestures China extended to Rwanda for its development. The two parties have also maintained good cooperation. He wishes to see two sides further deepening the cooperation. He and the Government of Rwanda will provide convenience and support for the envoy's work.
The two sides also exchanged views on issues of common concern. After the ceremony, Ambassador Wang Xuekun also accepted interviews with local media including Rwanda Television.
Ambassador Wang Xuekun arrived in Kigali on May 22nd and presented the copy of his letter of credence to Rwanda's Foreign Minister Hon. Vincent Biruta on June 6th. (End)