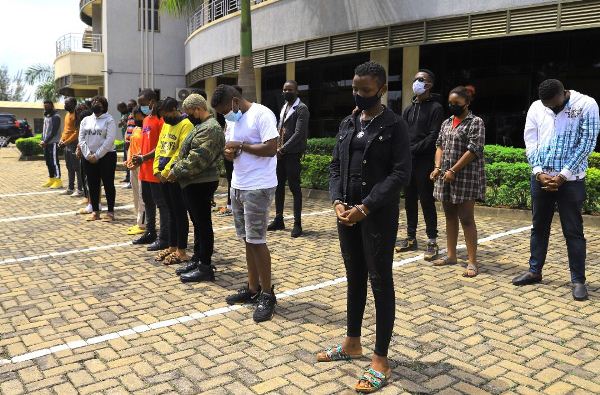 House parties, celebrations and receptions are prohibited under the government directives against the spread of Covid-19 and anyone hosting or attending these parties will be arrested, Rwanda National Police (RNP) has warned.
The warning comes after Police arrested 23 people in the night who were holding separate house parties in Gasabo and Kicukiro districts.
The violators were paraded to the media on Friday, December 24, at Kigali Metropolitan Police Headquarters in Remera, Gasabo District.
This came a day after 16 other people were arrested visiting an isolated Covid-19 positive person in Kicukiro District with three of them contracting the virus.
"On Thursday at about 9:30pm, Police found 20 people in a house holding a birthday party for one of their colleague identified as Ella Dufitumugisha, 23, in Karongi Village, Kibagabaga Cell, Kimironko Sector, Gasabo District," said Chief Superintendent of Police (CSP) Africa Sendahangarwa Apollo, the RNP Deputy spokesperson.
"Other three people were arrested at about midnight in a house located in Nyarugunga Sector of Kicukiro District. They were reported by residents for causing noise pollution and were found drinking beer."
CSP Africa cautioned against holding such home parties and urged the public to continue reporting such violations.
"Health measures have been revised due to the recent increase of Covid-19 infections and parties and related celebrations have been prohibited. We remind the public to be responsive during this festive period, respect the guidelines to stay safe."
The violators were educated on the government directives, health measures, tested for Covid-19 and handed administrative fines, accordingly.(End)