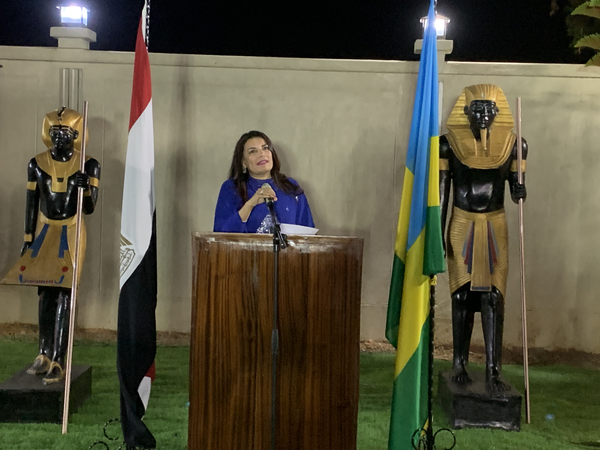 Egyptian Ambassador to Rwanda, Rania Banna delivering her Speech
Egyptian Embassy in Rwanda yesterday celebrated the National Day of the Arab Republic of Egypt with the presence of Rwandan Minister of Foreign Affairs, Dr Vincent Biruta, Diplomats, and Guests, and the Egyptian Ambassador in Kigali, Rania Banna, delivered the following speech: 
Since I assumed my duties in Kigali on September 15th, 2021, I have had only one goal in mind: to leave this country and the ties between Cairo and Kigali are stronger than they were before my arrival.
But I was told that I should be realistic, that there were too many challenges down the road: Not to mention the pandemic and the negative repercussions it inflicted on our Diplomatic duties: political visits rescheduled, prospect cooperation is in pause and even meetings are held virtually, not in person.
I, however, thought that because of all of that there would be a room for more cooperation, that the two countries would be more willing than in any time before to resume what they had agreed on but delayed because of these unusual circumstances.
I cannot claim that all of my goals have been achieved, that my entire plans have been implemented, but I am blessed with enough fortune to say that many big things have taken place over the last 10 months:
-In Decemeber 2021, H.E. Minister Shoukry, Minister of Foreign Affairs of the Arab Republic of Egypt, paid an important visit to Kigali, where he met Minister Biruta and tackled various instruments to enhance bilateral relations.
-During the same visit, and in the presence of Her Excellency the First Lady Jeannette Kagame, we witnessed laying the foundation stone for Magdi Yacoub Egypt-Rwanda Heart Center; a major milestone in the relations between Cairo and Kigali.
-Not long afterward, and precisely on March 26th 2022, President Kagame paid a state visit to Cairo, where he met H.E. President Al Sisi. During this visit, 5 bilateral agreements were signed, and the two Presidents discussed key issues of mutual interest and concern, not only on the bilateral level but on the regional one as well. President Al Sisi and President Kagame tackled different continental and regional mechanisms through which trade volume between both countries can be boosted.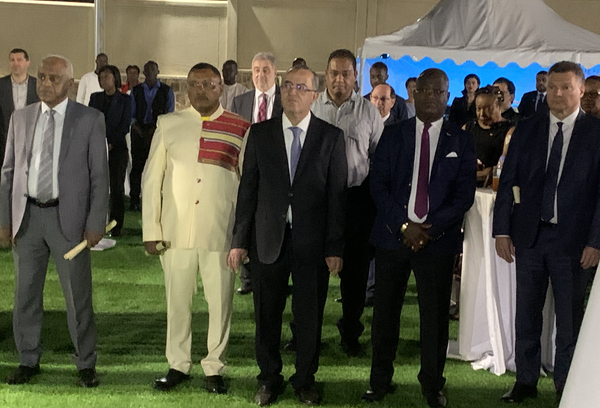 But despite all these high-level political engagements between both countries, I have always believed that bilateral relations cannot be merely based on the political dimension, even if it is that strong. So with the help of my Rwandan colleagues at the Ministry of Trade, Rwanda Development Board and Private Sector Federation, we managed to revive the idea of sending a delegation of Rwandan Businessmen to Cairo to discover prospective investment opportunities, and commercial partnerships in Egypt. 
Again, I was blessed with enough grace to have witnessed the implementation of this idea, when around 65 Rwandan businessmen travelled to Egypt from May 15-19. And Thanks to the Ministry of Trade in the two countries, the visit was quite successful.
Many big things have been achieved in the course of the last 10 months. Yet I still look forward to more and more achievements, I still wish that our political, economic and cultural ties get stronger and stronger.
Before concluding my speech, I have to say that without the support of my Rwandan Colleagues at the Ministry of Foreign Affairs and Other Ministries and my colleagues at the Egyptian Embassy, hopes to achieve what I have would have been distant and the challenges would have been enormous.
Thank you very much, Honorable Minister, for the great support you have shown. And Thank you very much honorable guests for coming tonight. (End)