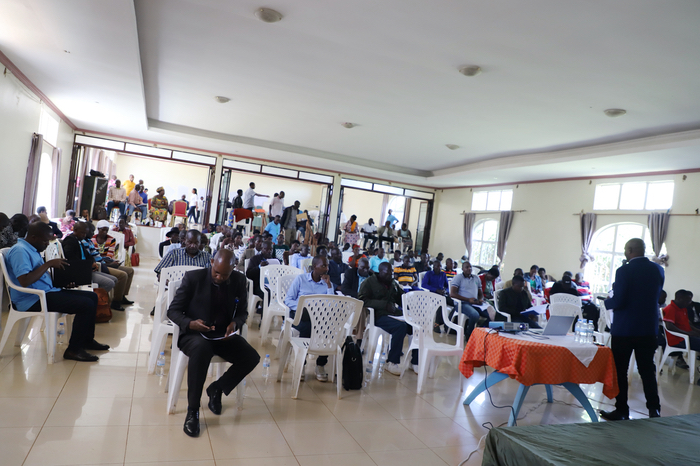 Kayonza: Representatives of farmer organizations in the Eastern Province working under the Farm to Market Alliance (FtMA) met with their partners including buyers, financial institutions, Input dealers, Local government representative and Insurance companies for crops in the value chain of maize and beans where they committed to abide to their contractual obligations with buyers, insuring their crops, use of improved seeds and apply for loan to invest in their agriculture business.
The meeting held at the Eastern Country Hotel in Kayonza on September, 27 2022 brought together farmers from the districts of Kayonza, Bugesera, Gatsibo, Ngoma, Nyagatare, Kirehe and Rwamagana, to review progress and make commitments to stakeholders.
Farmers say they will always act in accordance to what they agree with buyers and respect their contractual obligations by supplying their produce to the buyers they sign contracts with.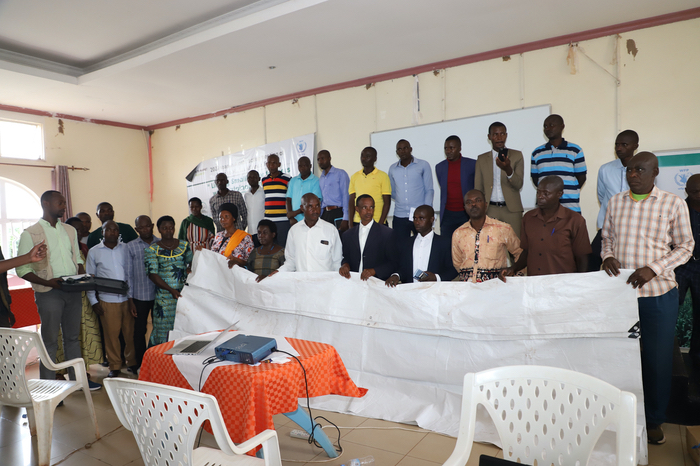 The commitment was announced by farmers during a one-day interactive meeting organized by Rwanda Development Organization (RDO) and Rwanda Rural Rehabilitation Initiative (RWARRI) with support from the World Food Programme (WFP) aimed at reviewing the last agricultural season as well as prepare for Season 2023A including contracting between farmers and buyers.
During the meeting Diana Mugwaneza, the Programs Officer at RDO highlighted the importance of meeting to reestablish commitments so that farmers can have proper market linkages to sell their produce and get access to information for different agricultural services.
Mugwaneza presented the FtMA project latest information discussing the agricultural season updates, sales under the platform, tax implications on sales and access to financial information intended to benefit farmers.
She said that such meetings provide an opportunity for all concerned stakeholders involved in the maize, beans and soya value chain to meet and interact. This also provides an opportunity for farmer organizations to sign contracts with buyers.
Aimable Usengimana, representing the World Food Programme (WFP) in Rwanda called on farmers to take opportunity provided under the platform as the best way to enhance production and improve lives.
Usengimana underlined that FtMA wants to ensure that no farmer is left behind and will always work hard to promote every farmer's interest.
Farmers testified how the FtMA platform is providing the opportunity to improve productivity, provide information and market linkages. 
During the meeting, Bernard Banamwana, the head of Rwanda Grains and Cereals Corporation (RGCC), one of the big buyers in the country posed a question to farmers as to where the produce go.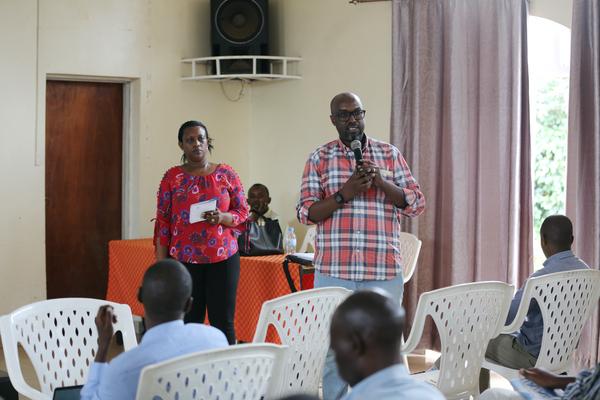 Some farmers responding to the limited produce supplied compared to the actual production, said that challenges of limited means force many farmers to want quick cash from speculators and commissioners that buy cheaply from farmers.  
Joseph Mbarushimana, a farmer from Rwinkwavu in Kayonza District highlighted how the FtMA platform is helping farmers particularly in securing markets. He said they now farm without worrying about the market.
"FtMA is helping us get market for our produce even before we plant and they also link us with financial institutions to have access to finance," Mbarushimana said. Adding that, with all this available they are ready to commit to contracts because all these strategies set by FtMA caters for most of the challenges farmers face.
Dansira Uwamaria, the president of COOPCUMA cooperative in Rugarama, Gatsibo District applauded the initiative of FtMA saying her organization has immensely benefited increasing production and value.
She told the meeting that at her cooperative, they have adopted new ways of running things using modern technology like payment of salaries and tax declarations.
FtMA platform offers market linkages in a sustainable way and brings along various partners including farmers, cooperatives, buyers, financial institutions, agri-focused institutions and non-governmental organizations that support farmers.
The meeting ended by recognizing best performing cooperatives where 82 have been selected countrywide. The Eastern Province has 32 cooperatives in this category that managed to perform well this year and produced 4,000 metric tonnes of maize.
To recognize and motivate the best performing cooperatives were awarded with prizes including weighing machines, moisture content testing machines and tarpaulins to help farmers improve their harvests.