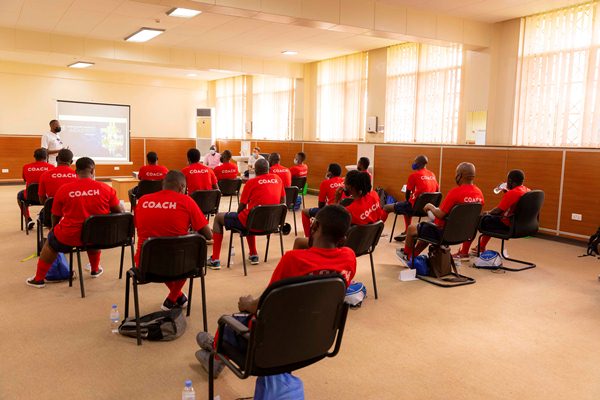 Paris Saint Germain is holding a 3-day workshop with the pre-selected candidates on the PSG methodology with the intention of selecting the best candidates who will have performed better during both theoretical and practical sessions for the coaching positions at the soon to be established PSG-Academy.
The workshop is being conducted by the Head Coach of the PSG Academy, Mr Benjamin Houri starting from this Friday April 16th 2021 to Sunday April 18th 2021.
''We are very pleased for the existing partnership between Rwanda and PSG through Visit Rwanda, it is very encouraging to see all participants geared for the three-days workshop. Undoubtedly, we believe that all of you are going to gain a lot of football knowledge from this workshop. All the best to everyone.'' Said François Régis UWAYEZU the FERWAFA General Secretary during the official opening of the workshop.
Benjamin Houri, Head coach PSG-Academy reiterated the objective of the workshop: ''it is an enormous pleasure for me to be here. The PSG-Academy is very important for us because it presents to us a chance to integrate the best players of the region in the academy. PSG has a big methodology that we are going to share with you and our aim today is to improve your knowledge of football so that you too can improve the skills of the players.''
The PSG-Academy will be made of a Technical Director and four (4) coaches who will be selected from the trainees at the end of the workshop. The workshop is taking place at Amahoro Stadium and has been organized in partnership with PSG, FERWAFA and the Ministry of Sports and has been organized in adherence to the Covid-19 guidelines.
PARTICIPANTS: Bazirake Hamimu, Dushimimana Djamila, Hakizimana Fidèle, Hakizimana Jean Baptiste, Mbabazi Alain, Nonde Mohamed, Murekatete Hamida, Ndacyayisenga Daniel, Niyibizi Enock, Nsengiyumva Jean Damascène, Nsengiyumva François, Ntakirutimana Bonaventure, Ntibatega Mohamed, Nyinawumuntu Grace, Rumanzi David, Tegibanze Eric, Umunyana Seraphine and Uwineza Pacifique. (End)
Please follow and like us: