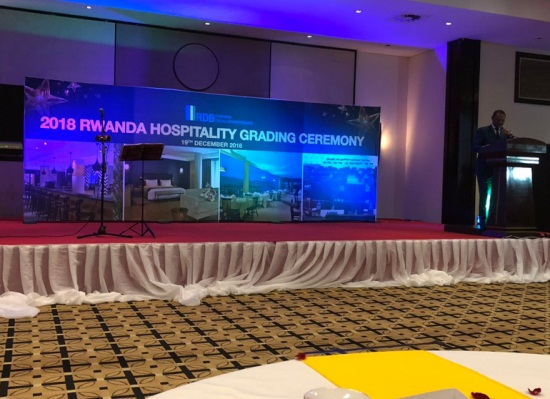 Kigali: 57 hospitality establishments have been awarded between 1 (one) to 5 (five) stars by RDB (Rwanda Development Board) during the 2018 Hospitality Grading ceremony today.
The 1-5 grading system helps to differentiate the quality of services that establishments render to their clientele.
The criteria used to grade the establishments range from their location, site and environment, architectural design and features, capacity, reception area, information services, hours of service, decor, amenities and accessories and regulation of temperature among others as per the 'East African Criteria for Standardization of Hotels, Restaurants and other Tourist Accommodation Facilities'.
The criteria stipulates the standards that should be met for any accommodation establishment to be one, two, three, four or five star and are mandatory for any prospective property developer in the accommodation sector in all EAC member states.
The facility awarded a five-star rating is One & Only Nyungwe House in the Nyungwe Forest National Park.
Four-star facilities are High Ground Villa and apartments in Kigali city, Classic Lodge and Fatima Lodge in Musanze, Epic Hotel & Suites in Nyagatare and Moriah Hill Resort in Karongi Districts.
19 hotels received three-star category, 26 fell into the two-star category while six were ranked as one-star facilities.
Speaking while presiding over the ceremony, the Guest of Honour, Prof. Anastase Shyaka said: "The establishment and compliance with these standards is very important for our country as a tourist destination in order to sustain a competitive advantage and attract more tourists. Tourism plays a fundamental role in Rwanda's economy and is the leading foreign exchange earner. In 2017, tourism generated about US$ 438 million in revenues, and we aim to double the revenues from the sector to US$ 800 million by 2024. This will be done through provision of consistent and high quality services."
Emmanuel Hategeka, the RDB Deputy CEO and Chief Operating Officer said: "As Rwanda increases the number of four to five star category of hospitality establishments, it is a good sign of how the destination has grown and ensures our visitors of the quality in accommodation as well food & beverage services. Today we have an opportunity to award a five star to one establishment outside Kigali, which is an indication of Rwanda's commitment to spread tourism activities across the country. In the past, five star establishments were only found in Kigali, the capital city but we are striving to make sure that facilities in other cities of the country also offer high quality services."(End).