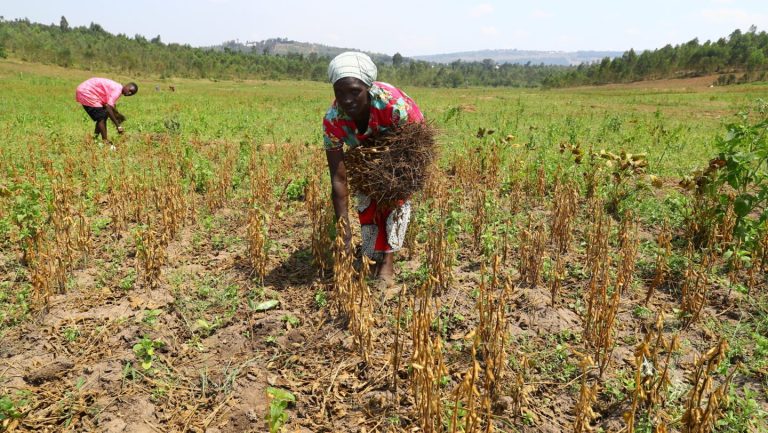 Kellen Nyaruhimbi, a Congolese refugee in Nyabiheke camp, harvesting her soybeans in Nyabicwamba marshland. ©UNHCR/Eric Didier Karinganire
By Eric Didier Karinganire;
On a sunny morning in Nyabicwamba marshland, Kellen Nyaruhimbi, a Congolese refugee living in Nyabiheke refugee camp, located in the eastern part of Rwanda, alongside her 18-year-old son David, are busy hand-harvesting soybeans from their plot. This is a turning point for the Nyaruhimbi family as they reap their first harvest.
"The future is promising since we started growing our own food," says the mother of nine who has been living in Nyabiheke refugee camp since 2008, after being forced to flee the Democratic Republic of Congo (DRC) due to war in South Kivu region. Nyabiheke camp, in Gatsibo District, hosts over 13,000 Congolese refugees.
Although Nyaruhimbi and her family found safety in the camp, life was very far from ideal.
"We had no occupation since we arrived here; only waiting for humanitarian assistance – which doesn't cover all our needs. But we are now growing some crops which will gradually improve our lives. There is a positive change," she says.
During this growing season (Feb-June), she expects to harvest at least 50kg of soybeans. The produce will supplement the humanitarian assistance her family receives every month, – something she hopes will keep improving her family's living conditions.
Kayitare Shema, 34, another Congolese refugee, says the farming project has restored hope for a brighter future for his family.
The father of four uses improved-quality seeds and fertilizers and applies other best farming practices. In addition, they are provided with all agricultural inputs and technical support through the national agri-inputs subsidy scheme.
"I expect to harvest about 70 kgs of soybeans. That's a good start," Kayitare says. "We are very thankful to the government of Rwanda for ensuring our safety, and UNHCR and other partners for enabling us to work towards our self-reliance. This reduces the hurdles that come with being a refugee."
Nyaruhimbi and Kayitare share a similar story with 467 other Congolese refugees in Nyabiheke camp and its neighbors, who are now enjoying their first harvest from the farming project. During this season, they planted soybeans and maize on 23 hectares.
Thanks to funding from the Government of Denmark, the UN Refugee Agency (UNHCR), in collaboration with the government of Rwanda, is supporting the refugees in Nyabiheke camp and host communities to improve their livelihoods through the climate-smart and market-oriented agriculture project in the marshland.
The project encompasses not only land preparation and sowing through to harvesting activities, but the creation of a dedicated Cooperative and collective bargaining that allows refugees and host communities to work together in getting their crops to market at a fair market price, access financial and material support and foster good relations between the communities.
This project is just one of several initiatives that have been launched in Rwanda to improve the lives of the refugees and their host communities and is paving the way for refugees' self-reliance and contributing to the local economy.
For refugees like Kayitare, the diversification of such initiatives would enable them to take charge of their future.
"It's a blessing for us to have been selected to be part of this life-changing project," Kayitare points out. "It would be great if such initiatives could be expanded so that we can get access to even more economic opportunities."(End)