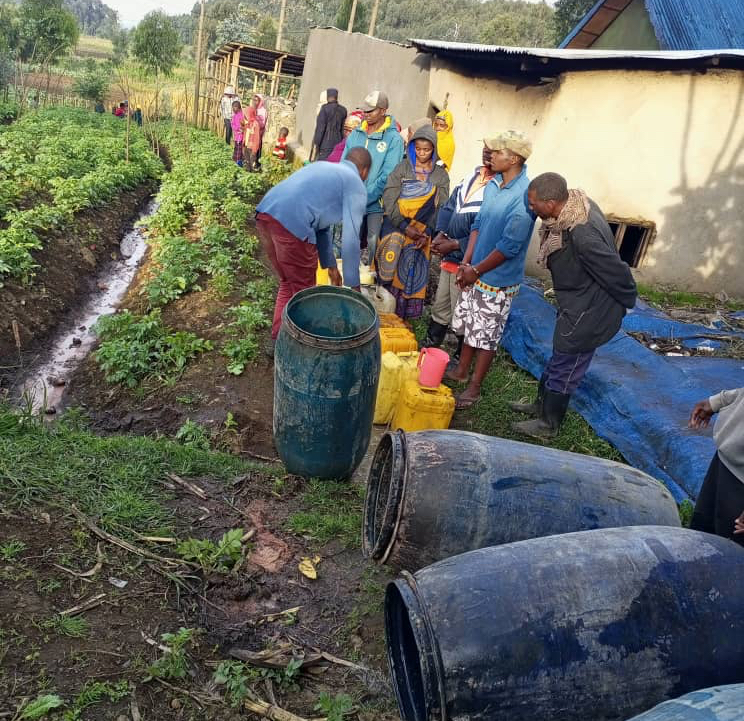 Residents of Rubavu District were cautioned against producing, selling and consuming illicit drinks.
While addressing hundreds of residents from Rubavu and Bugeshi sectors on Thursday, September 22, Police and local leaders urged them to invest in legal businesses instead of wasting their money in producing and selling illicit drinks, leading to their arrest and imprisonment.
The sensitization included disposing of 2300 litres of illicit brew, which was seized from two producers in the two sectors of Rubavu and Bugeshi.
About 2000 litres were seized from the home of one Fidele Hitiyaremye in Rubavu Sector and other 300 litres from one Febron Ndayambaje in Bugeshi Sector.
Rubavu District Police Commander, Superintendent of Police (SP) Bosco Karega, told the residents that besides committing crimes by producing and selling illicit brew, they are also poisoning people with these harmful substances.
"Illicit brew fuels other crimes like theft and fightings including domestic violence. People spend days and nights drinking these substances and end up not engaging in productive work," SP Karega said.
He warned that Police and local leaders will continue operations against illicit brew, urging residents to report people, who produce or sell them.
Article 5 of the Ministerial order Nº 001/MoH/2019 of 04/03/2019 establishing the list of narcotic drugs and their categorisation classifies alcoholic drinks produced without complying with standards and other laws; on the list of simple narcotic drugs.
Article 263 of the law determining offences and penalties in general states that; any person who, unlawfully produces, transforms, transports, stores, gives to another or who sells narcotic drugs and psychotropic substances commits an offence.
Upon conviction, he/she is liable to imprisonment for a term of not less than seven years and not more than ten years and a fine of not less than Frw5 million and less than Frw10 million in regard to "simple narcotics."
Blaise Harerimana Emmnanuel, the executive secretary for Rubavu urged the residents to work with the Police to fight production or sell of narcotic drugs and psychotropic substances.
He further reminded them to follow the right procedure to produce alcoholic beverages with the required standards.
Rwanda Standards Board (RSB) specifies that "only food-grade processing aids recognized as safe for human consumption shall be used during the manufacture."
Only those with the Standard-Mark (S-Mark) are allowed to produce and sell alcoholic or non-alcoholic beverages.(End)