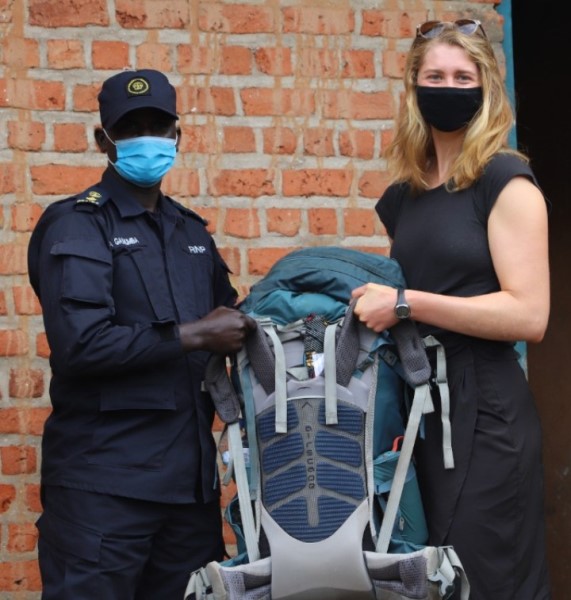 Rwanda National Police (RNP), on Monday, May 2, recovered a bag containing assorted valuables, which was stolen from an American citizen and a student at University of Global Health Equity (UGHE) Butaro in Burera District.
The bag was stolen the previous night at a Milk Collection Centre in Mariba Village, Karambo Cell, Kanama Sector in Rubavu District where it was kept.
The bag was stolen when the victim, Kirsten Dodroe together with other 10 students of UGHE, were touring Gishwati National Park.
The Western region Police spokesperson, Superintendent of Police (SP) Bonaventure Twizere Karekezi said that the items were recovered from two suspected thieves identified as Vedaste Nshimiyimana, 27, and Theogene Tuyishime, 18, who were also arrested.
Tuyishime is an employee at the milk collection center while Nshimiyimana is a herdsman.
"Police first arrested Tuyishime, who disclosed Nshimiyimana as his accomplice and who was hiding the bag. Nshimiyimana was located and arrested in Muhanda Sector, Ngororero District with the stolen bag, which contained assorted valuables including clothes," SP Karekezi said.
At the time of his arrest, Nshimiyimana was also found in possession of 10 pellets of cannabis.
The suspects were handed over to Rwanda Investigation Bureau (RIB) at Kanama station for further legal process while the recovered bag was returned to the rightful owner, who thanked Rwanda National Police (RNP) for the swiftness.
Article 166 of the law determining offenses and penalties in general provides that any person convicted for theft is liable to imprisonment for a term of not less than one year and not more than two years and a fine of not less than Frw1 million and not more than Frw2 million, community service in a period of six months or only one of these penalties.
In article 167, the penalty for theft doubles if the offender committed the crime through burglary, climbing or possession of keys other than the owner; the theft is carried out during the night or the theft is carried out by more than one (1) person.
The Ministerial order nº 001/MoH/2019 of 04/03/2019 establishing the list of narcotic drugs and their categorization classifies cannabis in the category of "very severe narcotics.''
Article 263 of the law determining offences and penalties in general states that; any person who, in any way, eats, drinks, injects himself/herself, inhales or one who anoints oneself with psychotropic substances, is liable to imprisonment for a term of not less than one (1) year and not more than two (2) years or subject to a penalty of community service. (End)