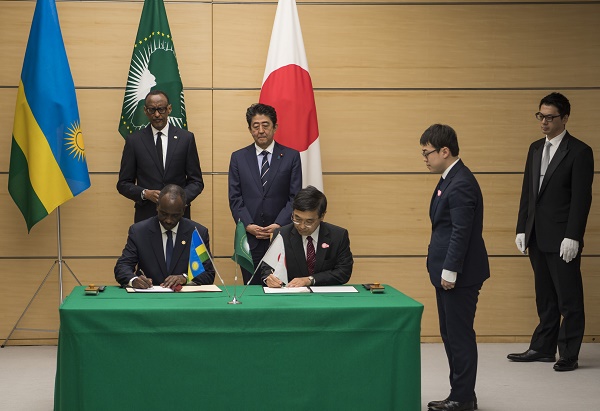 On January 8, commencing at 6:15 p.m. for approximately one hour, Mr. Shinzo Abe, Prime Minister of Japan, held a summit meeting with H.E. Mr. Paul Kagame, President of the Republic of Rwanda, who was on his Official Working Visit to Japan. The overview of the summit meeting is presented below.
Following the summit meeting, Mr. Takayuki Miyashita, Ambassador of Japan to the Republic of Rwanda, and Hon. Dr. Richard Sezibera, Minister of Foreign Affairs and International Cooperation of the Republic of Rwanda, signed the Exchange of Notes in the presence of the two leaders on a grant aid project for improving the water supply situation in Kigali City, "the Project for Strengthening of Nzove-Ntora Water Principal Pipeline in Kigali City."
Subsequently the two leaders held a joint press occasion. Prime Minister Abe and Mrs. Abe then hosted a dinner, where the two leaders discussed a broad range of topics relating to the bilateral relations.
1. Opening remarks:
(1) Prime Minister Abe stated that this was their third summit meeting and that he would like to further deepen the partnership existing between the two countries that share fundamental values and have exchanged experiences in a wide range of fields in the public and private sectors.
Prime Minister Abe expressed his gratitude for Rwanda's proactive contribution to the Tokyo International Conference on African Development (TICAD) process and expressed his hope for President Kagame's attendance in TICAD7, which will be held in Yokohama City in August this year, and further collaboration for TICAD7.
(2) In response, President Kagame expressed his gratitude for Japan's invitation and his intention to make this visit to Japan as an opportunity to strengthen cooperation with Japan both in bilateral and in international arenas and to further enhance the relationship between the two countries. President Kagame also affirmed his attendance in TICAD7 and Rwanda's contribution to the success of TICAD7.
2. Bilateral relations
(1) Support for the sustainable development of Rwanda: Prime Minister Abe highly praised President Kagame's initiatives in areas such as economic development, national reconciliation, and combatting corruption. In addition, Prime Minister Abe expected that the implementation of the grant aid project to be signed on this day would improve the water supply situation in Kigali City, and stated that Japan would continue to support the economic growth of Rwanda through public-private partnership. In response, President Kagame expressed his gratitude for Japanese assistance in the fields of agriculture, ICT, infrastructure, human resource development including the ABE initiative, peacebuilding including PKO, and contribution to Africa's development through TICAD process.
(2) Cooperation in the economic field: Prime Minister Abe welcomed the increase in the number of Japanese companies in Rwanda from 3 four years ago to 24, thanks to President Kagame's initiatives for improving the investment and communication environments as well as human resources development. Mentioning the Public and Private Sector Joint Mission for Promoting Trade and Investment in Africa, which was dispatched in July last year, and the JETRO Seminar, which would be held on January 9, Prime Minister Abe expressed his hope for developing concrete business projects.
3. Regional affairs and strengthening cooperation in the international fora:
The two leaders exchanged their views on global issues such as United Nations Security Council reform as well as regional affairs including North Korea issues. (End)