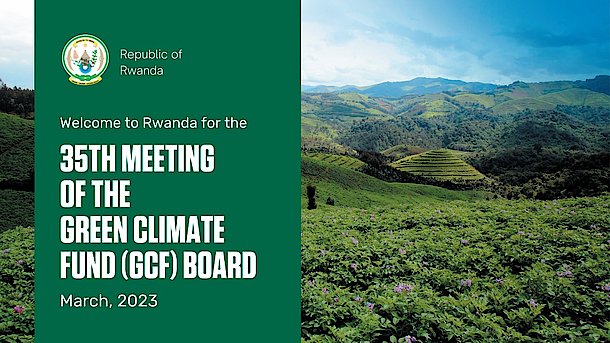 Rwanda has been selected to host the 35th Meeting of the Green Climate Fund (GCF) Board in March 2023. The decision was announced at the recent 33rd GCF Board Meeting in South Korea. The meeting of the GCF Board in Kigali will take place from 13-16 March 2023. 
The Green Climate Fund is the world's largest climate fund, mandated to support developing countries to raise and realise their climate action plans towards low-emission, climate-resilient development.
More than 300 people including the observers from civil society, the private sector, Nationally Designated Authorities and Accredited Entities to the GCF as well as board members are expected to attend the meeting in Rwanda. Attendees will have the opportunity to witness first-hand the country's efforts to address climate change, including through projects funded by Green Climate Fund.
Rwanda has a strong partnership with the Green Climate Fund and was the first country to have a government institution, the Ministry of Environment, accredited to directly access climate finance through the fund.
"We are honoured to have been chosen to host the Green Climate Fund board meeting in March next year. This decision is a vote of confidence in Rwanda's climate action efforts, and we are excited to welcome the GCF board members as well as hundreds of experts and stakeholders to Kigali. Rwanda is working hard to become a carbon-neutral and climate resilient nation and we look forward to sharing our experience," said Dr Jeanne d'Arc Mujawamariya, Rwanda's Minister of Environment.
Rwanda is partnering with the Green Climate Fund on a number of climate investments. In 2019, the Government of Rwanda secured USD 32 million from the GCF to strengthen the resilience of rural communities in Gicumbi District in the Northern Province.
In 2021, Rwanda signed a funding agreement with GCF and IUCN to transform the Eastern Province through climate adaptation, with a GCF contribution of USD 33.7 million and an additional USD 15.8 million in co-financing from the Government of Rwanda and project partners.
"We are very pleased that Rwanda will host our 35th Board Meeting in March 2023. The Green Climate Fund is a key partner of Rwanda and to date has invested over USD 100 million in the country for urgently needed climate action. During my recent visit to Kigali for the 26th Commonwealth Heads of Government Meeting, I witnessed how President Kagame's leadership brought countries together and highlighted the importance of leveraging climate finance in developing countries. I look forward to strengthening our partnership through the hosting of this Board meeting," said GCF Executive Director Yannick Glemarec.
The board of the Green Climate Fund typically holds three meetings each year. The board is charged with the governance and oversight of the Fund's management. It was established by 194 sovereign governments party to the UN Framework Convention on Climate Change (UNFCCC). The board is independent and guided by the Conference of the Parties (COP) to the Convention. (End)