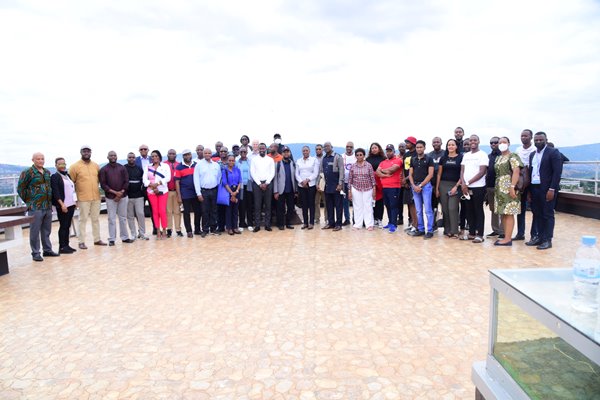 Participants to the 12th Regional Anti-Corruption Conference in Commonwealth Africa
 By Madeleine Nirere, Ombudsman of Rwanda
While corruption is a worldwide issue, its persistence poses a vital threat in Africa. Africa loses approximately 3.7 % of its GDP every year to illicit financial flows – this amount to a yearly loss of $88.6 billion, according to the UNCTAD's Report 2020. The loss of these funds has had a tremendously detrimental effect on good governance, economic development, and the well-being of African citizens.
This year's 12th Regional Conference of the Heads of Anti-Corruption Agencies in Commonwealth Africa, hosted in Kigali, will serve as an opportunity for 18 African Commonwealth nations to come together and consolidate the significance of cross-regional cooperation in the fight against corruption.
The conference aims to address the debilitating influence of corruption across the African continent and discuss joint initiatives which could help unlock its powerful socio-economic potential. It will also provide a platform for participating countries to engage and learn from one another, as well as develop a shared vision toward eradicating corruption at every level of society.
Rwanda's position as the host of this year's conference will provide us with the opportunity to impart what we have learned for the past 28 years during the process of rebuilding our government, economy, and society. Our government's implementation of wide-scale bureaucratic and institutional reforms has proven effective in ensuring transparency and accountability at all levels.
Rwanda has achieved a lot along the journey to eliminate corruption. Our experience shows that making the crime imprescriptible is one of the best ways to discourage people from offering or soliciting bribes.
Other measures put in place include the establishment of an anti-corruption committee among public and institutions, the private sector, and civil society organisations, as well as assets recovery.
For instance, more than 1.6 billion Rwandan Francs were recovered in the fiscal year 2020/2021. Rwanda also cumulatively recovered about 6 billion Rwandan Francs and property worth 100 million Rwf from 2014 to August 2021.
But we want to take the fight against corruption even further.
Under Vision 2050, Rwanda seeks to become the leading country globally in the fight against corruption. The Seven Years National Strategy for Transformation (NST1), that will run from 2017 to 2024, sets an ambitious target to raise our anti-corruption efforts to 92.5 per cent in 2024 (from 86.5 per cent in 2016) by working with different stakeholders and church leaders, among others.
In 2020, the Corruption Perception Index (CPI) by Transparency International indicated that Rwanda ranked the 4th least corrupt country in Africa, following Seychelles, Botswana, and Cape Verde.
Finally, we hope that the lessons learned and experiences shared at this conference will be evidence of the enduring impact of the Commonwealth, which is a valuable force for good on our continent. The Commonwealth gives us an additional forum to deepen diplomatic ties and share knowledge and expertise.
As we look ahead to the conference, we are very optimistic that it will serve as a catalyst for continued progress on the anti-corruption issue.
As corruption continues to hamper our continent's progress, we know that African governments will rise to the occasion despite the challenges ahead of them. This conference should serve as a space where we directly address its devastating repercussions and recognize the steps that must be taken towards repairing our own institutions and restoring public trust. (Fin)