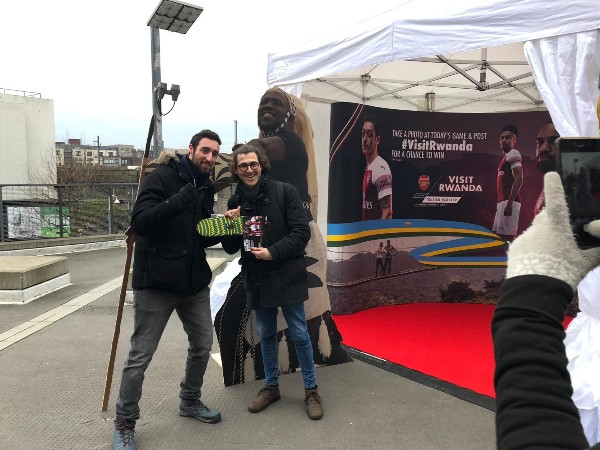 Kigali: Visit Rwanda yesterday successfully held its first ever fan activation activity at the Emirates Stadium, London.
The goals of the activation were to first of all, introduce Visit Rwanda to the Arsenal FC fan base in an interactive manner and secondly, further strengthen the already existing relationship between Visit Rwanda and the Arsenal FC fan base.
Visit Rwanda's stand at the entrance to the stadium brought a taste of Rwanda to London with traditional drummers in full regalia entertaining the thousands of Arsenal FC and Chelsea FC fans who attended Arsenal FC's home match.
Along with the entertainment, representatives of Visit Rwanda handing out Visit Rwanda brochures to the fans.
Furthermore, Visit Rwanda ran a photo competition for the fans, giving them an opportunity to win signed Arsenal FC shirts as well as tickets to watch home games of their choice in the Visit Rwanda Executive Box.
To win, Visit Rwanda asked fans to take a photo at the Visit Rwanda stand, follow Visit Rwanda on both Twitter and Facebook (on our handle @visitrwanda_now), and then post the photo with the hashtag #visitrwanda. The winners of the photo competition will be announced on Monday, 21st January.
Present at the event was Rwanda's High Commissioner to the United Kingdom, Amb. Yamina Karitanyi and Arsenal FC's Commercial Director, Peter Silverstone. (End)