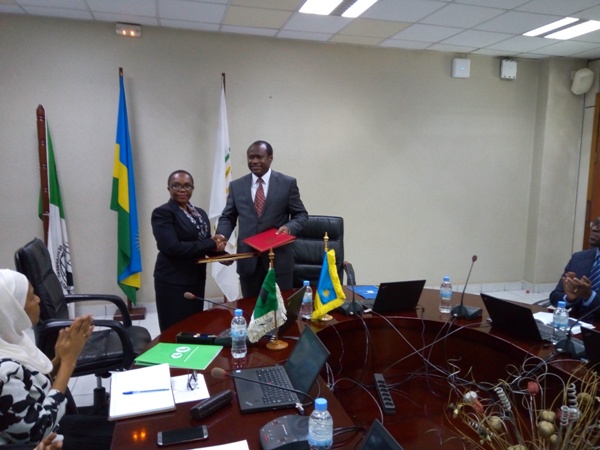 Kigali: The Government of Rwanda and the African Development Bank (AfDB) today signed a loan agreement worth 115 million Euros (approximately Frw 116 Billion) additional funding for the sustainable water supply and sanitation program. The initial funding was worth 146.9 million Euros, taking the entire funding to this program 261.9 million Euros.
The objective of the program is to ensure equitable provision of adequate, reliable and sustainable water and sanitation services for targeted cities.
Speaking after the signing, the Minister of Finance and Economic Planning Dr. Uzziel Ndagijimana said:"This funding willimprove the quality of life and socio-economic development of the people by with a view to promote economic growth and transformation".
AfDB Country Manager for Rwanda, Mrs. Martha Phiri said: "This additional financing increases the on-going Bank support to the water and sanitation sector in Rwanda to €282 million, demonstrating the Banks's desire and readiness to match the Government of Rwanda's ambitions to achieve speedy socio-economic transformation".
The additional financing will cover water supply infrastructure in areas that were not included in the initial financing of the program due to resource constraint. These include:Nyagatare, Gatsibo, Kayonza, Ngoma, Bugesera, Ruhango, Nyanza, Muhanga, Ngororero, Kamonyi, Musanze, Nyabihu, Rubavu, Karongi and Rutsiro districts.Water access in these areas ranges from 9% to 79% with average of 45%, significantly lower than the national average of 85%.The additional financing will also support provision of sanitation facilities in ten (10) schools and efficiency improvement of selected rural piped water supply schemes.
"The Bank's support to this program further goes to deepen and consolidate the impact of its investments in enhancing resilience to climate change and inclusive growth," said WambuiGichuri, the Bank's Director for Water Development and Sanitation.
With the additional financing, about 1.5 million more people will be provided with improved water supply services of which 0.7 million are in peri-urban and rural areas, bringing the total beneficiaries (initial + additional) to 5.4 million at completion of the program in June 2023.The objective is to support the country ensure that by 2024 all Rwandan households, health centers, schools and business enterprises have access to adequate and reliable water and sanitation services, as per NST-1 objectives.
Under the current division of Labor, The African Development Bank supports Rwanda in Transport, Energy, agriculture and private sector development. (End)