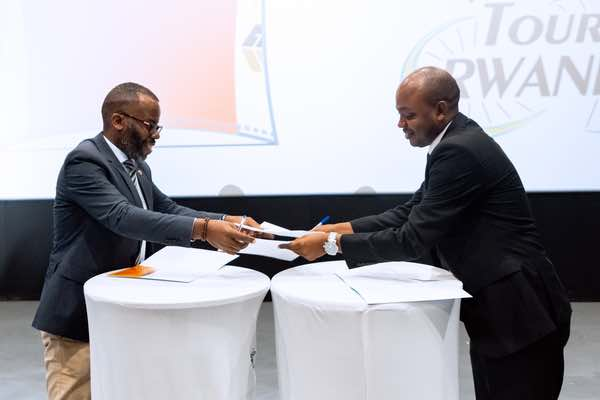 Guillaume Habarugira, CEO of Cogebanque Plc, and FERWACY president Abdallah Murenzi after signing the agreement  
Cogebanque Plc and Rwanda Cycling Federation (Ferwacy, Féderation rwandaise du cyclisme) have extended their partnership to three years.
This new partnership will allow Cogebanque to participate in the upcoming Tour du Rwanda cycling editions as a GOLD Sponsor until 2025.
Cogebanque is the sponsor of the best climber jersey. The commercial bank joined the Tour du Rwanda family 11 years ago.
Cogebanque (Compagnie Générale de Banque Plc) is a Rwanda-based commercial bank, licensed by the National Bank of Rwanda. It started operations in 1999.
The Tour du Rwanda is a cycling event created in 1988 and organised by the Rwanda Cycling Federation. The event has been part of the UCI Africa Tour as a category 2.1-rated event since 2009.