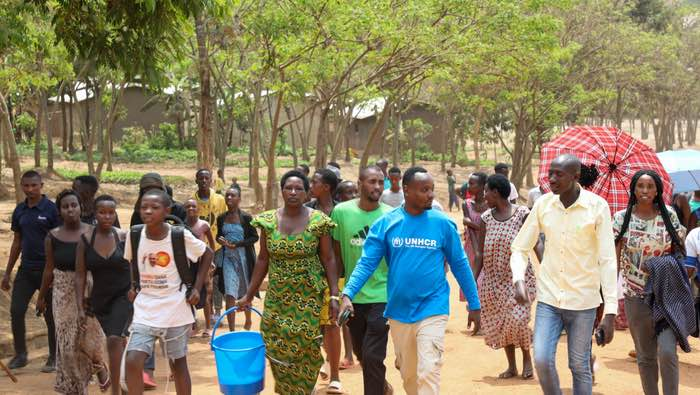 Some of the new asylum seekers in Mahma camp, over 12.000 Congolese asylum seekers have arrived in Rwanda since November 2022. Photo UNHCR
Two decades after their initial return from exile, Leah and her family once more sought safety in Rwanda due to the escalating violence in the eastern Democratic Republic of Congo (DRC).
Back home in Masisi territory, the eastern part of the Democratic Republic of Congo (DRC), Leah's life was good – her husband was a medical doctor, herself working in government tax collection, and a life filled with prosperity. But all changed early this year when militia groups attacked their neighborhood and shattered everything.
Many rebel groups including the Democratic Forces for the Liberation of Rwanda (FDLR), Mai Mai, Nyatura, and others had unleashed terror upon their lives, she recounts. The violence knew no bounds.
"They wanted to kill us," Leah recalls with the haunting memories. "They killed our relatives and took our cows and the properties of our neighbours."
It all began as Leah headed to Goma town to seek advanced medical care as she was attacked by a rebel group on the way to the hospital.
"When I reached a place called Sake, they attacked me and took away all my possessions," she recalls.
She kept her journey to Goma though, she explains, as she had the opportunity to locate some of her children who were attending school in Goma town and seek refuge once more.
Leah, with three of her four children, subsequently embarked on a treacherous journey, seeking safety in Rwanda. They reached Nkamira Transit Centre in March this year, with no news about her husband and older daughter whom she left home.
"We managed to escape and went through a very difficult journey, and that's how we ended up arriving here," she says.
Her husband and older daughter joined them later. And it was history repeating itself for Leah's family going into exile.
"It wasn't my first time fleeing," she explains. "In 1996, we experienced a similar fate, and we fled to Rwanda. In 2000, stability was restored, and we went back home."
When Leah and her family fled to Rwanda for the first time, she explains, they did not go to a refugee camp, so they lived a normal life in a village until they returned home.
Upon their return, they worked hard to rebuild their lives, only to leave everything behind when the violence intensified in eastern DRC again in late 2022.
"Back in Congo, life was good," she says. "We had properties, but we remain with nothing."
The displaced Congolese left everything behind – their homes, farmlands, and possessions, all seized or destroyed. But they found refuge in Rwanda, where their immediate needs were met. Leah and her family had to start anew in Rwanda.
They are some of over 12,000 Congolese asylum seekers who have arrived in the country since November 2022, when renewed conflict in North Kivu Province erupted, eventually driving over a million people from their homes. Initially sheltered at Nkamira transit centre where UNHCR, in close collaboration with the Government of Rwanda and other partners, provides them with life-saving assistance, before transferring them to other better-equipped refugee camps across the country.
Leah's family was recently relocated to Mahama refugee camp – the largest camp in the country located in the eastern part of Rwanda near the border with Tanzania.
Despite the safety found in Rwanda, humanitarian needs keep surging as more people cross the border seeking safety in Rwanda. UNHCR and its partners require more funds to keep providing much-needed assistance such as shelter, documentation and non-food items and restore hope among displaced Congolese like Leah.
Leah, for instance, dreams of her children's education that have been shattered, as they left behind their studies and the remnants of their old lives.
"One had just started university, another had just completed secondary school and we were planning to enrol her into university, but the hope has faded away." She points out. "Now, I really don't have anything in mind…maybe the one who was at university should stay home…no other option." (End)