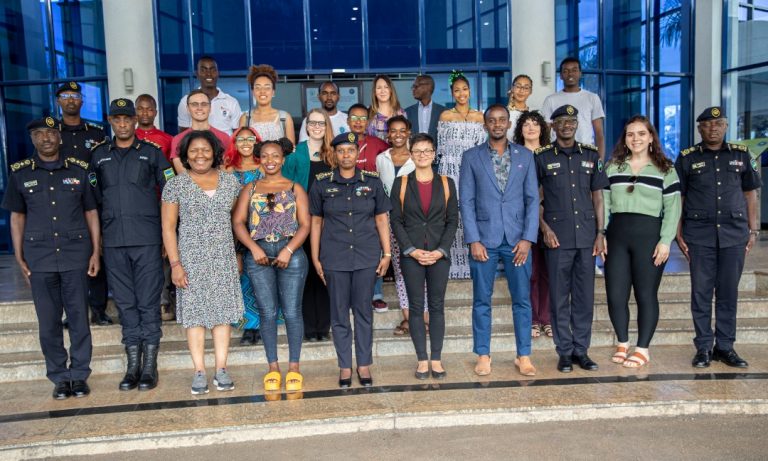 Students and lecturers from Kent State University in USA visited Rwanda National Police (RNP) at the General Headquarters as part of their study tour.
The students are in Rwanda as part of their 'Rwanda post-genocide against the Tutsi' course offered by the Ohio-based University. Their visit to RNP was mainly to understand the force's role in peace building and national development.
The Deputy Inspector General of Police (DIGP) in charge of Administration and Personnel, Jeanne Chantal Ujeneza, who received the students, reiterated the RNP's proactive approach in working with the citizens as well as other governance and security institutions in addressing human security issues that would otherwise cause insecurity.
The students sought to know more about the RNP's community policing philosophy, the link between peace-making and policing, Umuganda (communal work) in relation to peace and development, and how the force deals with crime such as gender-based violence, human trafficking and drug abuse.
"Rwanda National Police serves in the interest of the citizens… for everyone to be safe, involved and reassured. We are a people-centred security organ and the citizens are empowered to be the first responders in identifying and addressing localized security issues, through community night patrols, and sharing of information on anything that can affect their safety and wellbeing," DIGP Ujeneza said.
She added that as a proactive approach to prevent crime, RNP devises and implements various community security and development activities, including awareness against crime, constructing modern houses for the disadvantaged families as well as giving them medical insurance, solar energy, clean water, organic gardens, construction and rehabilitation of roads connecting villages, among many others.
These proactive engagements, DIGP Ujeneza added, build trust and confidence, instills a sense of nationalism, improves security in neighborhoods, provides a safe environment for all and where people feel safe when they see security organs.
While responding to the issue of youth and drugs, DIGP Ujeneza said that development also goes with protecting the young people against one of the major hindrance to youth development. This, she said, involves sensitization against drug abuse, operations to break drug trafficking chains and rehabilitation of addicts, among others.
Pacifique Niyonzima, a Rwandan student pursuing PhD in 'Interprofessional Leadership' at Kent State University, said that the 'Rwanda post-genocide against the Tutsi' course was designed to teach students about the progress that Rwanda has made in different sectors such as peace, education, health and security.
"They have come to Rwanda National Police to learn how it implements these programmes in line with peace-building and development… then they go back and teach their communities," said Niyonzima.
Sarah Schmidt, a student in secondary school education also at Kent State University, said: "I will be teaching high school students social studies; history, economics, civil society issues. Coming here, I expected to find a country attempting to rebuild itself after the tragedy, but what I found is a country completely succeeding in unifying its people and rebuilding itself to be a place where everyone feels safe, secure and happy."
She added: "They have really built a society here that seems to treasure every citizen and where people express themselves in their own way. I have, therefore, learned strategies that I can use in my classroom to help teach students unity and peace-building skills through debates and consensus." (End)