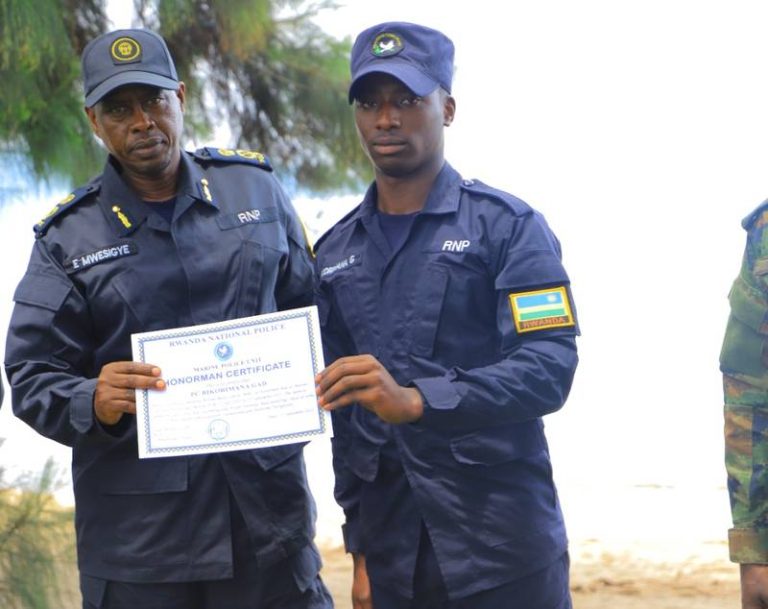 Twenty-seven Rwanda National Police (RNP) marine officers, on Thursday, September 15, completed a two-month basic marine training conducted in Lake Kivu.
The basic course equipped the new marine officers with maritime policing skills, including introduction to Police marine, First Aid, water survival and rescue, swimming, boat assembling and disassembling, sea warrior and practice, and seamanship and navigation.
Assistant Commissioner of Police (ACP) Elias Mwesigye, the commanding officer for Police Marine Unit, while closing the course in Rubavu District, reminded the trainees that they have a duty to confront maritime security threats.
"Marine Basic course was designed to equip you with essential knowledge, skills and techniques to successfully conduct daily duties and be able to confront any security threats on water bodies, protect and save lives," ACP Mwesigye said.
He commended them for their commitment and courage that defined them during the training course. He further urged them to maintain discipline and strive to put what they acquired into practice for the safety and security of people using water bodies.
He reminded them that this is the beginning and that there are still courses ahead.
Police Marine is a Rwanda National Police (RNP) unit assigned with various responsibilities which include; ensuring safety and security of water bodies in Rwanda, and raising public awareness against maritime crimes and to prevent loss of lives resulting largely from unlawful and reckless use of water bodies. (End)