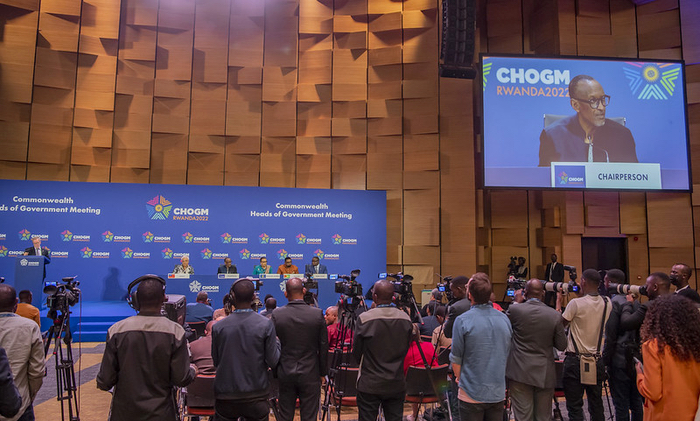 President Paul Kagame who is the incoming Chair of the Commonwealth and Commonwealth Secretary-General the Rt. Hon. Patricia Scotland, alongside Hon. Fiamē Naomi Mataʻafa, Prime Minister of Samoa, President Irfaan Ali of Guyana and President Julius Maada Bio of Sierra Leone today interacted with members of the press from across the globe on the just concluded Commonwealth Heads of Government Meeting (CHOGM) 2022. 
Held from 20-25 June 2022, the Meeting which was due to take place in 2020 but was postponed due to the Covid-19 pandemic was an opportunity for Commonwealth member states to reconnect and discuss global challenges affecting the over 2.5 billion citizens across the community.
Themed 'Delivering a Common Future: Connecting, Innovating, Transforming', CHOGM 2022 was an occasion to deliberate on the enormous technological, ecological, and economic challenges and opportunities facing the Commonwealth, particularly the young generation, with a special focus on the post Covid-19 economic recovery across all layers of the communities' member states and population.
President Kagame expressed his gratitude and that of the people of Rwanda to Commonwealth Heads of Government and their delegations for honouring the country with their presence, reiterating Rwanda's commitment to working together with members of the Commonwealth to confront common challenges and seek joint opportunities,
"As incoming Chair-in-office, I look forward to continue working with the Secretary General and Commonwealth members to deliver on our key priorities. We are all committed to values of the Commonwealth, no question, but it is not for one group to define and measure who lives up to it. A commonwealth is diverse and we respect the diversity."
Held every two years, CHOGM is the Commonwealth's highest consultative and policy-making gathering. Commonwealth leaders selected Rwanda as host for their next summit when they met in London in 2018.
The Commonwealth is a voluntary association of 54 independent and equal countries in Africa, Asia, the Americas, Europe and the Pacific. It is home to one-third of the world's population and includes both advanced economies and developing countries. (End)