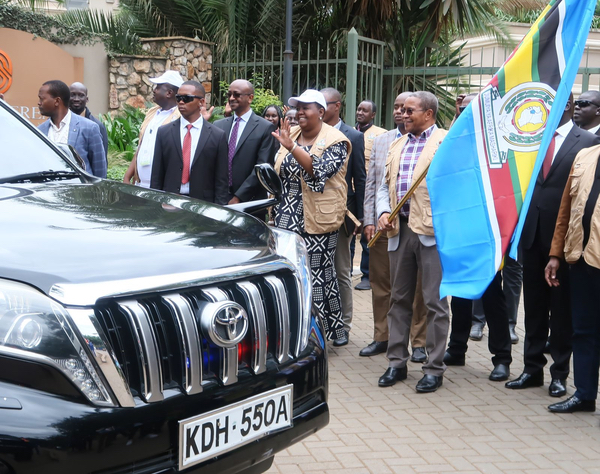 The East African Community (EAC) has deployed 15 Election Observation Teams to observe Tuesday's General Election in the Republic of Kenya.  
Flagging off the Election Observation Teams from the Head of the EAC-Election Observation Mission headquarters in Nairobi today, Dr. Jakaya Mrisho Kikwete, said that the observers had undergone training over the past five days to enable them undertake their responsibilities as International Observers and as EAC Observers.
Dr. Kikwete, who is also a former President of the United Republic of Tanzania, disclosed that the 52-strong EAC Observer Mission drawn from the EAC Partner States and the East African Legislative Assembly (EALA) had been deployed in 15 teams that will cover various counties in all the regions across the country.
"The main task for our observers will be: to observe ongoing electoral campaigns; observe polling processes on the polling day including results management at the Polling Stations; and observe tallying, announcement and declaration of results," said Dr. Kikwete.
Dr. Kikwete said that the observers are expected back at mission headquarters in Nairobi on 10th August, 2022, adding that the mission would then prepare a preliminary report on what it had observed during the electoral process.
"The field report will enable us to prepare a Preliminary Statement, which we will release on Thursday 11th August, 2022," he said.
He said that since the mission was launched on Monday, 1st August, 2022, it had engaged state and non-state actors including the Independent Electoral and Boundaries Commission, the Kenya National Commission for Human Rights, the National Cohesion and Integration Commission, security agencies, political parties, political coalitions, the media, political parties, civil society and religious organisations.
Dr. Kikwete said that in the mission's assessment so far, it had observed a generally calm electoral, political and security environment.
"For this, we wish to thank the political leadership, the people of Kenya and the institutions responsible for electoral processes in the country. We appeal to all Kenyans, the various political coalitions, parties and independent candidates to maintain peace and aspire for a successful and peaceful election," he said, adding, that a peaceful and successful general election will be a win not just for Kenya but the entire East African Community.
Present at the flagging off ceremony were the Deputy Head of Mission and EALA MP, Hon. Fatuma Ndangiza, EAC Secretary General Hon. (Dr.) Peter Mathuki, EAC Partner States Ambassadors and High Commissioners to Kenya, the EAC Deputy Secretary General in charge of Planning and Infrastructure, Eng. Steven Mlote, EALA MPs and Observers, and EAC Members of Staff.
The East African Community (EAC) is a regional intergovernmental organisation of six Partner States, comprising Burundi, Kenya, Rwanda, South Sudan, Tanzania and Uganda, with its headquarters in Arusha, Tanzania. (End)