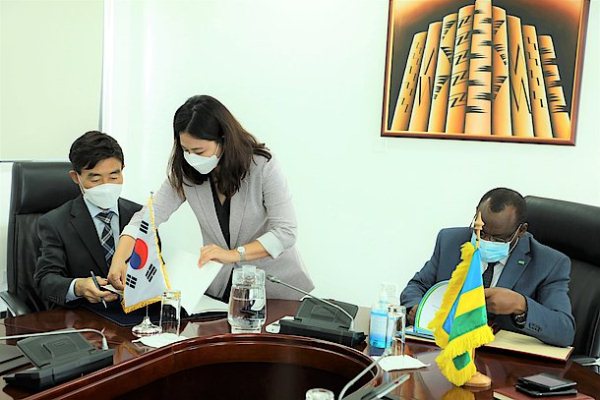 The Ambassador of Korea, Jin-weon CHAE, and Minister of Infrastructure, Claver GATETE, represented both countries during the signing of Bilateral Air Services Agreement.
The Government of The Republic of Rwanda and the Government of the Republic of Korea signed a Bilateral Air Services Agreement (BASA) between the two Countries.
The agreement was signed by Minister of Infrastructure, Hon. Claver GATETE and the Ambassador of the Republic of Korea, His Excellency Jin-weon CHAE.
This follows bilateral discussions on the draft BASA between delegations of the Republic of Korea and Republic of Rwanda during ICAN2018 (ICAO Air Services Negotiation Event-2018) in Nairobi, KENYA after which both countries started domestic process for the approval of their aeronautical authorities for the BASA signing.
The signing of this agreement will enhance connectivity between both countries and facilitate the private sectors of both countries to realise and tap into the economic and social benefits.
"The signing of the BASA with the Republic of Korea and with opening of more routes by RwandAir, will promote international air link between countries, enhance business and tourism opportunities through air transport. This will also provide Rwanda's private sector with enormous opportunities in an economically vibrant and large market of more than 180 million people," said Minister Gatete.
The Ambassador of the Republic of Korea to Rwanda noted that the signing of bilateral Air Service Agreement will broaden the scope of our cooperation, providing more opportunities for our people and future generation in two aspects.
"This Agreement will promote human exchange and buttresses the partnership between the countries. It is evident that greater human exchange enriches our bilateral ties, as better understanding and friendship among people lay the foundations for deeper cooperation", His Excellency Jin-weon CHAE said.
The Ambassador of the Republic of Korea to Rwanda highlighted that the signed Agreement, will create greater chances for human exchange and human resources development between the two countries as it would support Rwanda for achieving its development goals and targets.
The Air transport agreements creates a basis of air connections between the signatory with Rwanda, in the context of the country's vision of becoming a regional and international hub.
The Air Services Agreement signed between Rwanda and the Republic of Korea is based on the Convention on International Civil Aviation, which requires the existence of such agreement in order for national airlines to operate international air services between cities of the two countries.
Currently, Rwanda has concluded 101 BASAs within and outside Africa of which 52 have been ratified, 17 signed and 32 initialed. This will be a continuous process meant to strengthen cooperation, trade relations and boost tourism sector. (End)
Please follow and like us: