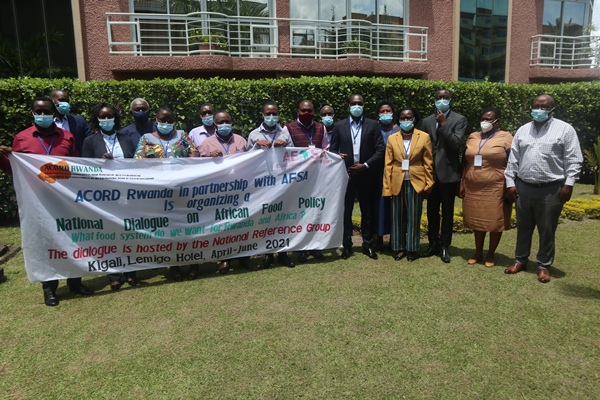 Group photo of participants
The National Reference Group (GNR) wants sufficient and quality food for Rwanda and Africa, according to the Director of ACORD / Rwanda (Association for Cooperation, Research and Development), François Munyentwari.
"The objective of our workshop is to give ideas to the African Union and the African Council of Ministers so that the continent can have sufficient and quality food. This objective is shared by the continent and the various partners. We want the African Council of Ministers to put in place this harmonized policy so that Africa stops remaining the market for what is manufactured elsewhere. Our continent has its agriculture, its own natural resources. It is endowed with a working population which has its own culture of preserving products and their processing. Only, the gap is in our policies governing agriculture, trade and nutrition", said François Munyentwari.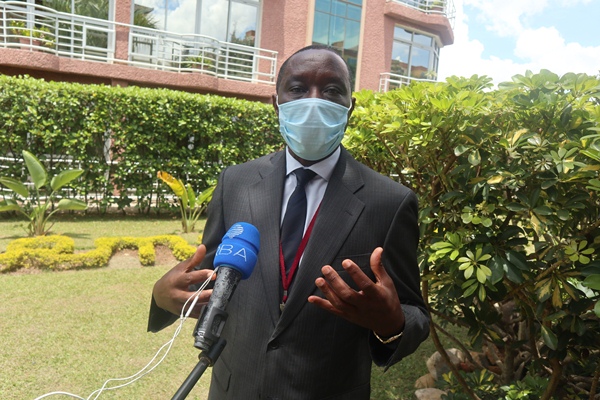 François Munyentwari, Director of ACORD.
He continued:"People are penetrating into Africa to sell food and make a profit, to our detriment. The other serious shortcoming is in the seeds. We want to use our own seeds and inputs to be strengthened to be more productive and of quality. We want to equip ourselves with our own valued hybrids and not hybrids from outside the continent".
Faced with the lack of harmonization of national policies to govern the challenge of sufficient and quality food, the Director of ACORD specifies that the GNR is not only concerned with the harmonization of these current policies, but the objective is to urge these policies to correct the course to focus on a food policy of what is sufficient, sustainable, and accessible to all, inclusive.
"Our current food policy makes available foods that have a negative impact on people's lives and the good condition of the soil. Inputs kill insects and threaten biodiversity. People get diseases that weren't there before. These policies in place advocate the misuse of chemical inputs and pesticides that exterminate insects. Such policy needs to be changed. We want to harmonize the various policies in place in a single common policy which will make it possible to make available a sufficient and quality food system. Currently, no one is indebted to either the problem of insufficient and unsuitable food, or the products that enter our countries from various horizons, without our knowing their true origins", continued Munyentwari.
Asked about various reports decrying the food security situation in Rwanda, the Director of ACORD is content to acknowledge the real observation that Rwanda has children and adults suffering from malnutrition.
"It is an indisputable fact that there is food insecurity in our countries although their figures vary according to the reports produced", he said.
The National Reference Group (GNR) includes delegates from various government institutions, Parliament, Civil Society, the Private Sector, and the media. They all gave suggestions for Rwanda and Africa to adopt a harmonized and coherent policy that can meet the challenge of the lack of sufficient and quality food.
All the rich presentations given focused on the link between productive agriculture, trade and climate change. (To be continued….).
Please follow and like us: