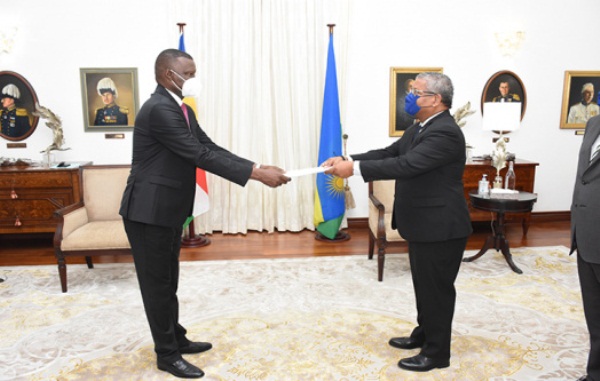 The new High Commissioner of the Republic of Rwanda to Seychelles, Major General Charles Karamba, presented his credentials to President Wavel Ramkalawan at State House.
President Wavel Ramkalawan welcomed Major General Karamba to Seychelles and congratulated him on his accreditation.
"It is an honour to welcome you to Seychelles and I wish you all the best as the new High Commissioner of the Republic of Rwanda to the Republic of Seychelles. On behalf of the government and the people of Seychelles and on my own behalf, I look forward to strengthen and develop further our cooperation in various sectors," said President Ramkalawan.
For his part, Major General Karamba conveyed the personal greetings and further congratulatory message of the President of the Republic of Rwanda, Mr Paul Kagame to President Ramkalawan, six months after being elected as the new President and relayed Rwanda's commitment towards enhancing current ties and furthering cooperation based on mutual interests of the two peoples.
In this respect, the meeting was an opportunity for the Head of State and the newly accredited High Commissioner to discuss avenues of cooperation in sectors such as; education, security, both on land and at sea, environment, agriculture and tourism.
Following the accreditation ceremony and his courtesy call on Vice-President Ahmed Afif, speaking to the press, High Commissioner Major General Karamba described the relationship between Rwanda and Seychelles as warm, cordial and that he is happy to represent his country here in Seychelles.
Major General Charles Karamba is based in Dar es Salaam, Tanzania.
Also present at the accreditation ceremony was the Minister for Foreign Affairs and Tourism, Mr Sylvestre Radegonde, the Principal Secretary for Foreign Affairs, Dr Marina Confait, Director-Bilateral Affairs, Department of Foreign Affairs, Ms Patsy Moustache and Third Secretary in the Department of Foreign Affairs, Ms Ingrid Labrosse. (End)
Please follow and like us: